Week Two: Kevin Milne, the Duchess of Cambridge and Where to Eat in Central Otago!
Welcome back to a A Quiet Cuppa! Put the kettle on, it's time for a catch-up with old friends. Welcome!
It's wonderful to have your company! If you're reading for the first time - welcome, we're so pleased you've joined us! To get a proper introduction to what these newsletters are, how they work and how they came about, please click on this link here to get you up to speed.
We very much hope you're enjoying reading along with us. Thanks to all of you for reading along, and those who have emailed in to let us know your thoughts. While we're creating something new (and learning plenty as we go along!) we're very much taking on board your thoughts and ideas. So, if there's anything you'd like to see more of - or perhaps less! - please do drop us a line. We'd love your input to make sure A Quiet Cuppa is a perfect fit for you!
Well, without further ado, if you haven't popped the kettle on yet, do so now! We're catching up with the wonderful Kevin Milne for a natter, and you'll need a warm cuppa in your hands as Nici later takes us for a travel tour around the deep south! Enjoy!
In today's edition:
Sit Down For A Cuppa With…. Kevin Milne!

Royal watch! The Duchess Strikes Back

Nici Wickes' Great NZ Food Tour! First stop: Central Otago
---
Sit down for a cuppa with… Kevin Milne!
In 2010 Kevin Milne was named on the list of 'Most Trusted New Zealanders', second only to Willie Apiata – little surprise really, given that Kev was the man Kiwis turned to in their moment of need. He was their last hope when they'd been cheated, lied to or scammed – the man who always stuck up for the little guy on TVNZ's Fair Go.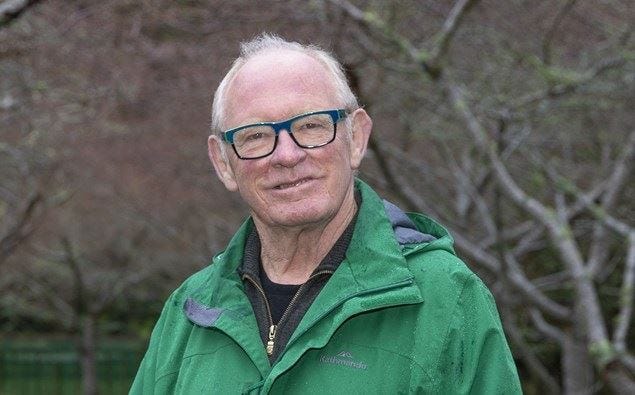 Now 71, it's a few years since he worked his last day on Fair Go, but he still gets stopped on the street for advice. He's still the man to turn to when you need solid advice – or just want to hear a wonderful yarn (he's full of good stories!). Today we're talking to him at his Raumati home, where he's fuelled by a cup of coffee – thanks to one of his three sons (there's Alex, 37, Rory, 34, Jake, 31 – plus daughter Tommie, 18) who works for Kiwi brand Ozone coffee over in London, packages of the stuff turn up in his letterbox. He loves his coffee, but is also more of a "tea-type person". "I have it just the way it comes out of the pot," he says. "John McBeth, the broadcaster – who is a skinny little fella – he told me once that he lost a lot of weight from just not having milk in his tea. So I did the same thing, but I've not lost any weight!"
So Kevin, how was the whole experience of being in lockdown for you?
The lockdown has just been a delight. We – my wife Linda and I – got to talking again, about nothing. Just sitting down and talking about nothing, which we hadn't really done for ages because we always thought we had more to do than just wasting time talking to each other, and it's been just great! We got to know each other again and I loved it. I loved the quietness of the streets; I loved the laughter of kids playing with their dads during the week.
My image of lockdown was a dad who had taken his kids out on his skateboard, they grabbed a great big bit of plastic and caught a bit of Wellington wind, and this guy and his little kid went screaming along the footpath with a big sail up and his dad streaking along behind him. And I watched, thinking, 'this is great'. The sad thing is the dad has probably had to go back to work now. Apart from the fact that someone has to earn some money, life must have felt perfect for a fair few people for a month there!
How did you make your first dollar?
I left school with very few qualifications and got a job at NAC, National Airways Corporation, which would of course eventually become Air NZ. My dad had been a travel agent and I wanted to be one too, so I got into that and lasted six months, at which point they said, "Kevin, I think it would be better if you weren't working for us."
I'd sent far too many people to the wrong place and all that sort of stuff! That was the end of my first job. Then I got a job in a bank, but I was just about as bad as that and would have been on the way out there too I think. Any letters that were difficult to answer, I just used to put them in the bottom drawer. It was getting very hard to shut, that bottom drawer!
At that point I managed to get into the Wellington Polytechnic School of Journalism, again through an extraordinary fluke. I rang them up and Judy Callingham answered and thought I had this very sexy voice! She said, "look, you need to have high marks in English and good school qualifications- (I had neither!) – but c'mon in and we'll do an interview anyway." She later revealed to me when we were working on Fair Go that she had been so taken by my voice, she was determined to see what I looked like. She also shared with me the fact that she was bitterly disappointed in the end! But that got me the interview.
Dame Christine Cole Catley – she wasn't a Dame then of course – who was the head tutor, did the interview and she went home and said to her husband, "I've just been talking to some guy who works in a bank." And her husband said, "For God's sake get him out of the bank! I can't imagine a worse job. Get him on the course". So I fluked it and got on the course, alongside some great people like Judy Bailey, who was Judy Morrison back then. But I managed to do very well on that course – it suited me – and it changed my whole life.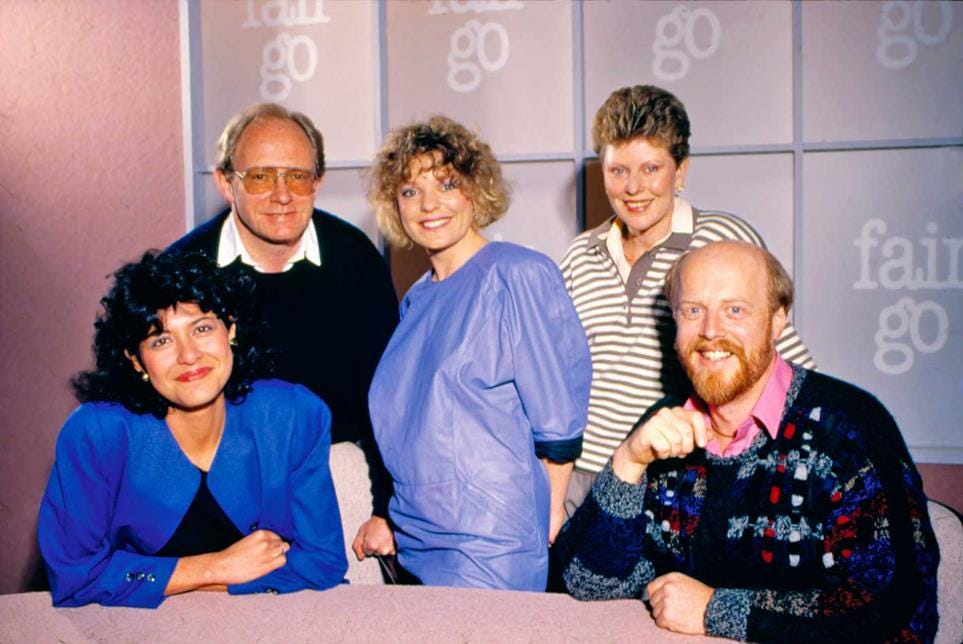 (The former Fair Go team: Kevin with Carol Hirschfeld, Kerre McIvor, Anna Kenna and Philip Alpers)
And then you went on to become one of New Zealand's "most trusted" people!
That was just so funny. I remember the morning it happened because they warned me there was going to be a bit of publicity, but they wouldn't tell me where. Then, in the morning, my wife got up before me, as usual, and she was online and saw I'd come in at number two behind Willie Apiata! Number one: Willie Apiata, Number two: Kevin Milne and then an array of people like Sir Peter Snell and Sir Wilson Wineray, all these sort of great names! The whole concept of it is nuts in a way, I mean, how do you know if you can trust people really?
I remember Linda was just dying with laughter, to think that the country trusted me when she knew I was not to be trusted in the least! [Laughs] It was just so funny. It reminded me of a time two years earlier when I was asked to be on Shortland Street, and my sons, who didn't care one iota that I was on Fair Go (because that was on TV1 and no one of their age watched anything on TV1) well, they were jumping around the house like it was the greatest day of their lives! So I got to play myself on Shortland Street over four episodes.
Ha! Was it a hard job playing yourself?
It was a hell of a difficult job because I had to learn the script, which was a weird irony in itself – you're playing yourself, but I could never remember my lines!
Who would be your pick for the most trustworthy Kiwi at the moment?
Ashley Bloomfield. Hell, I bet if they had a most trusted competition right now he'd be number one by a million miles.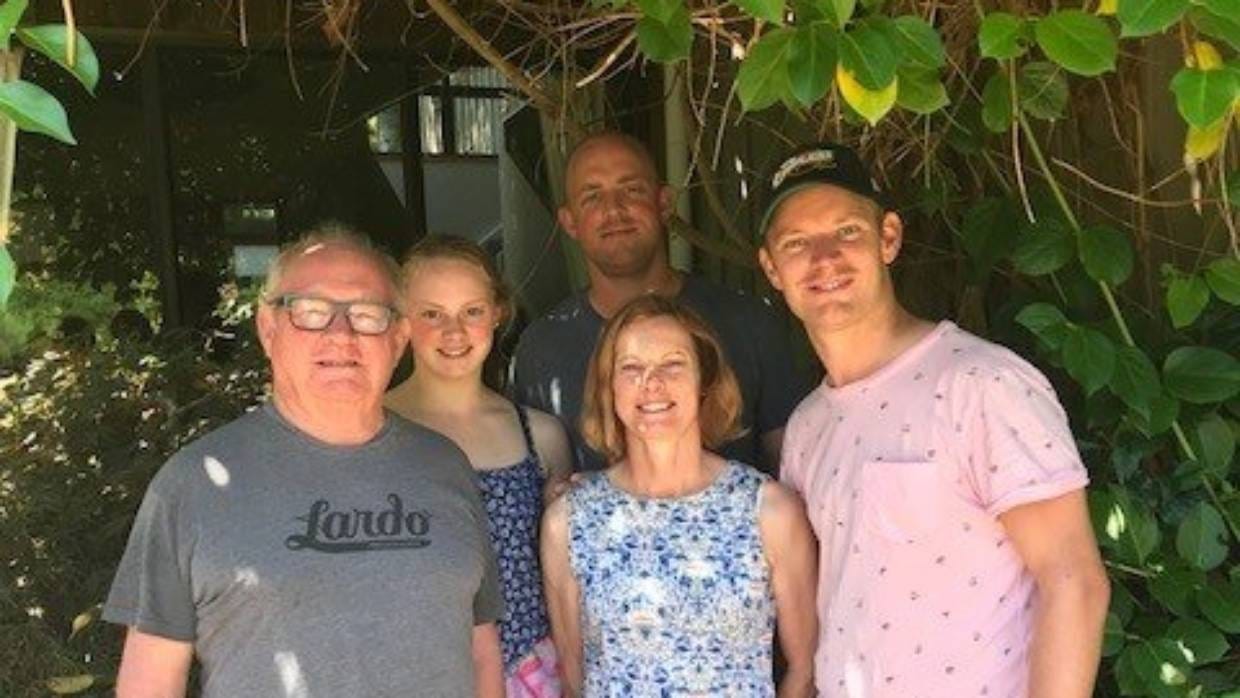 (Kev with his family: daughter Tommie, wife Linda and two of his three sons Alex and Rory)
What's your fondest memory from your childhood?
I learned the piano for a few years and every year my piano teacher held a concert and all the parents were invited along. I was nervous as hell. I remember I had to play a piece called The Dance of the Gnomes. I was only about 10 or 11 and the place was packed out. Mum had bought me a whole new outfit and I was just so nervous.
I went up there and I played so badly that the piano teacher had to come up on stage and flick the sheet music on, right to the back page so I wouldn't embarrass myself for much longer. Anyway, I got to the end of it and there was a sympathetic round of applause, except from my father, who I can remember was trying to make up for any lack of applause from all the other people. He was exploding with excitement. I'll never forget it. He passed away about two years later and it's the sharpest memory I've got of a really tiny event that I still carry with me now.
That's a lovely way to carry him on with you in life.
I've done it quite literally too. When I got my ONZM from the Queen, I remember going up there with a photo of my mother and father inside of my jacket, so I could take them up there with me. I thought it was a bit of an odd thing to do, but I wanted to share the moment with them, as neither of them were alive at that point.
Would you say that ONZM honour is your proudest achievement?
Actually, the work I did was the real achievement – getting the money for a lot of people. It was millions and millions over the years at Fair Go. That was a job really, but I was proud of that award. And I know there's a certain amount of cynicism about them and it's impossible to reward exactly the right people every year.
I was talking about it with my wife yesterday, with the new awards coming out last weekend, and remembering my year. When I saw the letter that says you've been nominated and do you want to accept, I was with my son in the car. I said, "This is extraordinary! I'm not sure that it's not a scam." I read through it to see whether you had to send in any money, and of course you didn't, so it was only then that I realised it couldn't have been. Typical cynical Fair Go man, right? He gets a letter from the Governor General and assumes it's a scam. [Laughs]
Do you still get stopped on the street and asked consumer-related questions?
Oh, yes. That's a lot to do with the fact I had this continuing link with New Zealand Woman's Weekly, doing the consumer column – it was my only work with consumerism, my other work is fronting up for Carpet Mill. That kept me in people's minds so people would ask me lots of things. And, I don't know, you try to be polite, but it's like being a doctor at a party, people asking you about their sore neck, you get a bit sick of it after a little while. [Laughs]
Do you have any regrets?
Yeah. I saw a photo of someone the other day celebrating their 40th wedding anniversary and they had this huge big crowd of people around them and it was a big party. Last year, when Linda and I celebrated our 40th wedding anniversary, we did nothing. It was totally our own fault, we'd moved house and a lot of things, so we gave it a miss. And now I think, well that was a missed opportunity. Friends are everything, wealth is nothing. I wish I still had every friend I've ever made. I wish I was still in contact with them all – I mean, I am still in contact with a lot of friends, I'm quite sentimental when it comes to friends. Once I make them, I try not to lose them.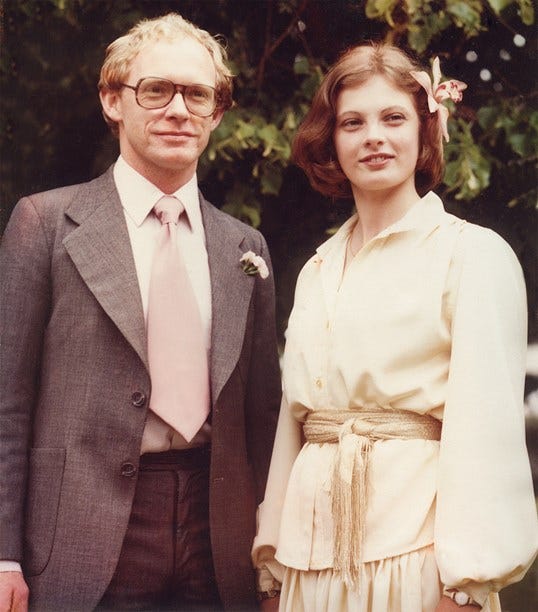 If you could have a cuppa with anyone, who would it be?
Sir Paul McCartney. I'd love to explore what it's like to be so astonishingly famous. I was watching him on a talk show a few months ago and the whole audience stood and applauded and applauded – I think they had to edit out of it, it went on so long. And so he is still remarkably popular, and quite rightly. But what I'd love to get to the bottom of is, is he happy? Because to me he doesn't look all that happy! I've always wanted to do a TV series with people who are dying who can advise those that have a lot of life still ahead of them, what should you ditch and what should you do more of? And I'd love to put those questions to him.
Do you suspect he'll also say, 'friendship is everything – wealth is nothing'?
I reckon. I'd like to hear it from him if he thinks so too.
Listen out for Kev on Saturday Mornings, when he joins Jack Tame on Newstalk ZB. And if you haven't read his 2010 book, The Life and Times of a Brown Paper Bag (Random House), be sure to pick up a copy!
---
Royal watch! The Duchess Strikes Back!
For years, the Duke and Duchess of Cambridge have by and large stuck to the Queen's method of dealing with the press - never complain, never explain.
But in a highly unusual move, William (37) and Kate (38) have launched proceedings against society bible Tatler, after a story they published insinuated Kate resents hard work and duty.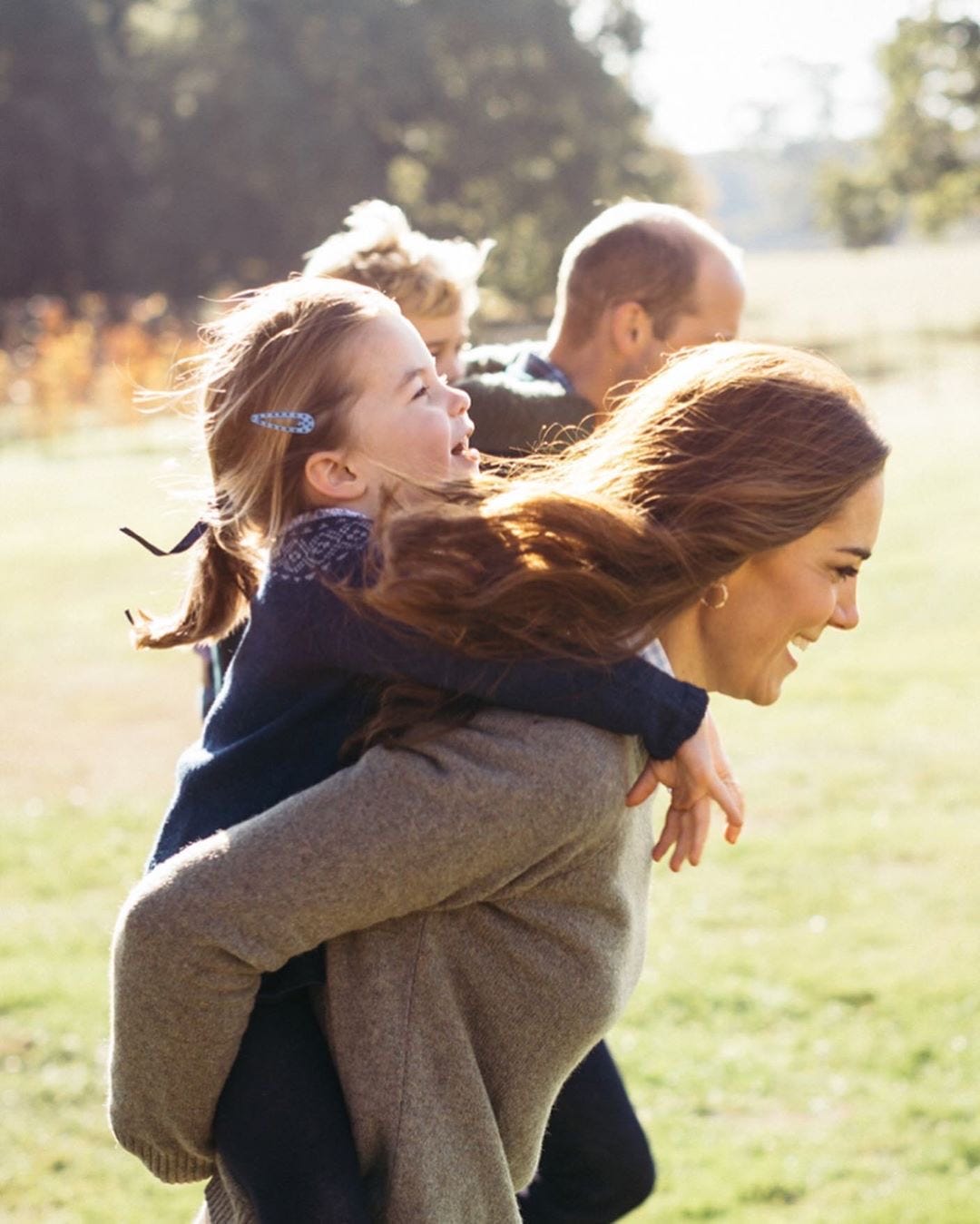 The magazine, which is usually a firm favourite amongst Britain's social elite claims the royal is feeling "exhausted and trapped" after the Duke and Duchess of Sussex removed themselves from day-to-day duties.
The cover story, titled Catherine the Great, also alleges William is "obsessed" with Kate's mother Carole Middleton and that Kate is "overwhelmed" with work.
"[Kate] has a ruthless survival streak…she keeps her head down because the prize of being queen is so great," the story says, adding "Kate is furious about the larger workload. Of course she's smiling and dressing appropriately but she doesn't want this."
The story's author, Anna Pasternak, also remarks on Kate's weight and draws parallels with William's mother's own battles with eating disorders - "Kate has become perilously thin, just like - some point out - Princess Diana." - and seems to class shame Kate's family - referring to Carole as having "Hyacinth Bucket aspirations of grandeur" (from British comedy Keeping Up Appearances) yet also dubbing her a "terrible snob", and dismissing her sister Pippa as "too regal and try-hard".
While certainly mean-spirited, the magazine's editor is standing by the story and her reporter, despite Kensington Palace's swift and very clear statement denouncing the article.
"This story contains a swathe of inaccuracies and false misrepresentations which were not put to Kensington Palace prior to publication."
Indeed the court circular, where royal engagements are listed, shows Kate completing a similar number as this time last year.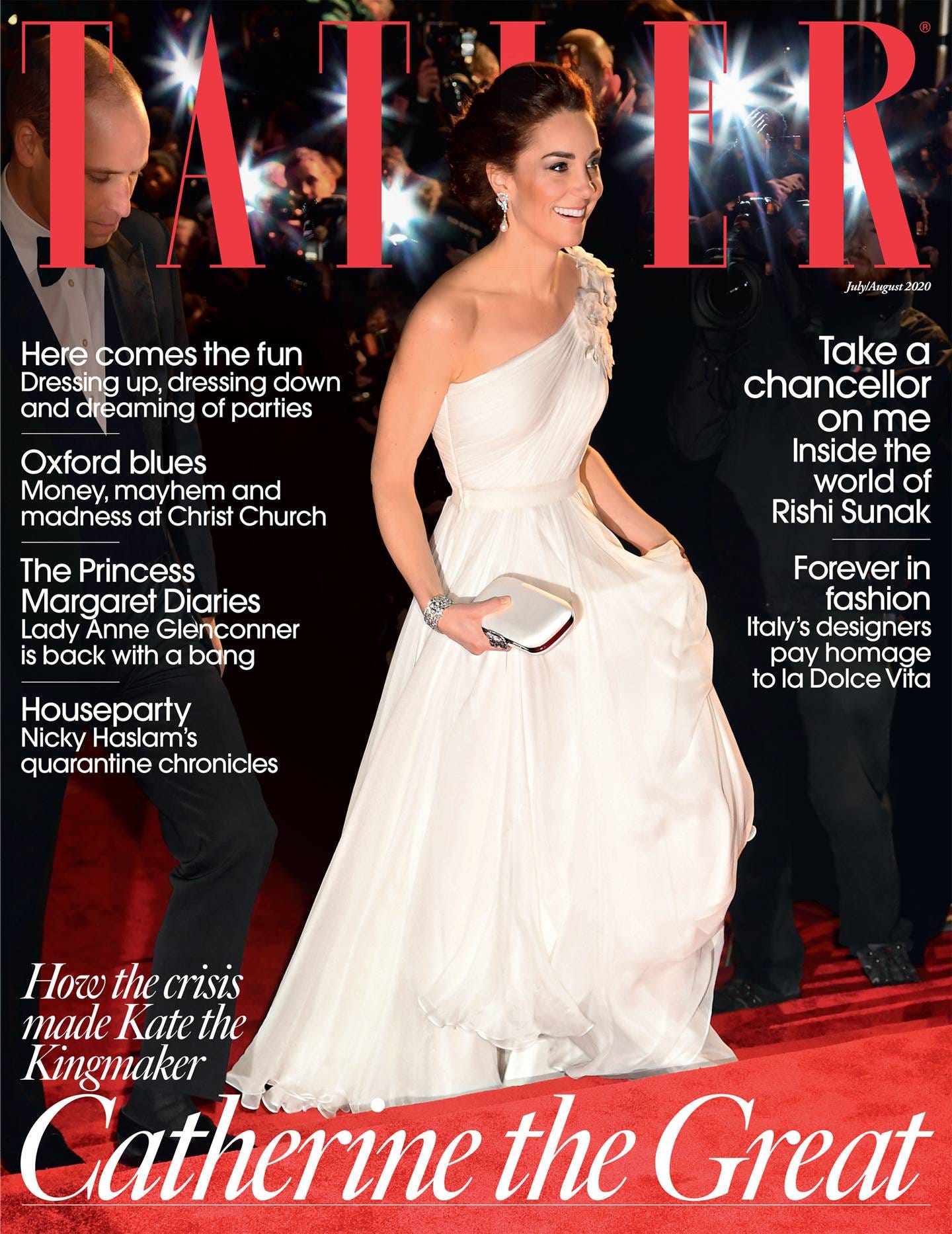 While William and Kate usually let misrepresentations and rumours pass them by, the duchess is said to be particularly hurt at the suggestion she doesn't like to work hard, especially during a global pandemic where she and William have been doing their best to boost spirits and contribute to the cause from home.
Sources close to Kate say she has been "more than happy" to do whatever she can to help, and that she and William have enjoyed the time in lockdown, especially as it's meant they've been able to spend more time with Prince George (6), Princess Charlotte (5) and Prince Louis (2).
Says an insider, "[The Tatler story] is such an extremely cruel and wounding barb. It's disgusting. It's sexist and woman-shaming at its worst… the piece is full of lies. The whole thing is class snobbery… Tatler may think it's immune from action as it's read by the Royals and on every coffee table in every smart home, but it makes no difference."
The palace has requested the magazine remove the story from its website, which they appear to have done, with legal proceedings to come.
---
Nici's Great NZ Food Tour! First Stop: Central Otago!
Travel. Travel. Travel. Eat. Eat. Eat. I've always adored travelling and eating and now we're being asked to become tourists in our own country, I don't need to be asked twice because there's such deliciousness to be had over them there hills! In the first of my travel features I'm starting in the middle, or sort of…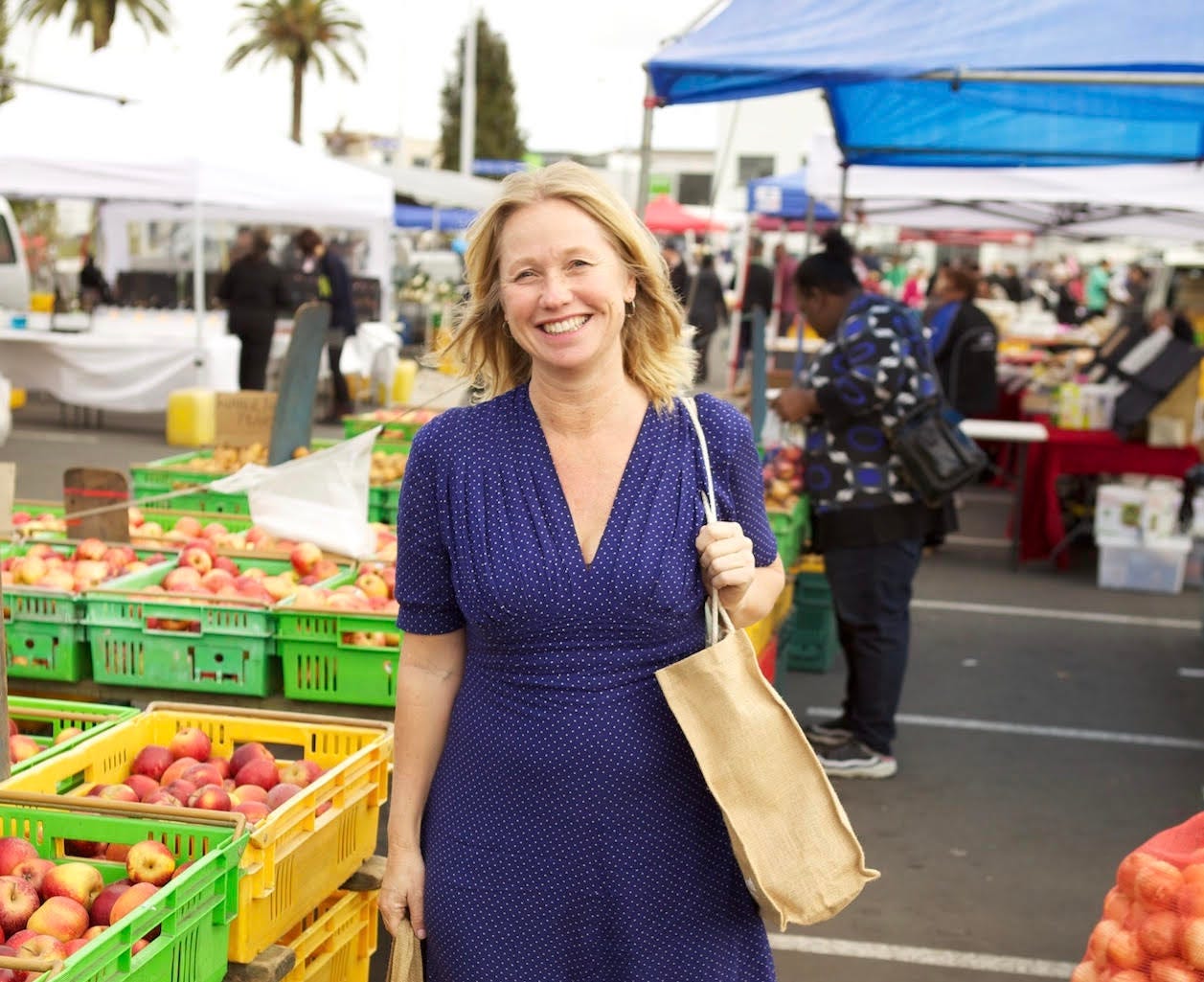 Central Otago is one of my all-time places to travel too. A trip through Central will reward you with vistas of golden tussock-covered hills, surging blue-green rivers, jutting snow-capped mountains and lowlands of orchards and vineyards stretching out like corduroy…and some of the best eats in the country. Here's where and what I'll be eating in Central first chance I get:
Queenstown
For daytime eats try Bespoke Café. It's not in town, but it's not far from it either and the locals all know it's the spot to eat. Try the lemon meringue hotcakes, they're simply divine. My other favourite is Joe's Garage – nothing beats sitting at the counter wrapping your chops around a Brat – a spicy bratwurst sausage with caramelised onions and melted cheese in a warmed Joe's roll. YUM!
For an evening meal, you can't beat the restaurant at Sherwood. It's a bit hipster but the food here is undeniably fabulous. Last time I was there I had slow cooked lamb shoulder, duck fat potatoes, carrots so soft and sweet they tasted like pudding. And the views are to di(n)e for so go early before the light has faded.
Places to stay: Sherwood Queenstown – a re-vamped motel with plenty of room choices, all of them super comfy.
Local Activity: Walk up Queenstown Hill. It's a cracker.
(Left to Right: Bespoke Cafe, Joe's Garage, Sherwood Queenstown)
Look out for another installment next week, where Nici stays Central and explores Wanaka and Arrowtown! Then, keep an eye out for Nici's upcoming eating & travel tips when she goes North, East, West and South.
---
Test Yourself! Quiz: This Week In History…
Norma Jeane Mortenson was born on June 1 in 1926 – who did she grow up to become better known as?

This week in 1960 NZ's first official television transmission began, starting with a three hour show at 7.30pm. Which of these four items was not played during that transmission?

A) An episode of The Adventures of Robin Hood

B) A 15 minute news bulletin

C) A live interview with a visiting British ballerina

D) A performance by the Howard Morrison Quartet.

On June 2 1953 the coronation of Queen Elizabeth II was held in Westminster Abbey. Today, how many great-grandchildren does the monarch have?

McDonalds opened its golden arches in NZ for the first time on June 7 1976, selling Big Macs for 75 cents a piece. Where was that first store located? Linwood, Hamilton, Porirua or Auckland?

On June 6 1998 the sitcom Sex and the City premiered. Who played the lead role of Carrie Bradshaw?

This week in 2014 actress Melanie Griffith divorced who, citing irreconcilable differences after 18 years of marriage?

Singer Sir Tom Jones celebrates a milestone birthday this week. How many candles will be on his cake?

On June 5 1968, Robert F Kennedy was assassinated as he left a ballroom at The Ambassador Hotel in Los Angeles. His wife, socialite Ethel Skakel, was pregnant at the time, delivering their daughter, Rory, six months later. How many children in total did the couple have?

On June 7 1958, Roger Nelson was born in the USA. He would go on to be a major singer-songwriter, better known as whom?

This week in history 10 women were selected to become the first females to enter the police force. Trainees were required to be well educated, aged between 25 and 40, unmarried or widowed, have shorthand and typing skills, and pass a strict medical test. What was the decade – the '30s, '40s, '50s or '60s?

Check your email inbox on Friday for the correct answers!

---
Coming to your inbox Friday: 'Nici's game-changing fries & Hometown Hero: Jenny Lynch!'
Make sure you keep an eye out on Friday as Nici Wickes shares her revolutionary new way to cook hot chips at home.
Plus we chat to former magazine editor Jenny Lynch, who, at 81 has written a tell-all memoir called Under the Covers: Secrets of a Magazine Editor.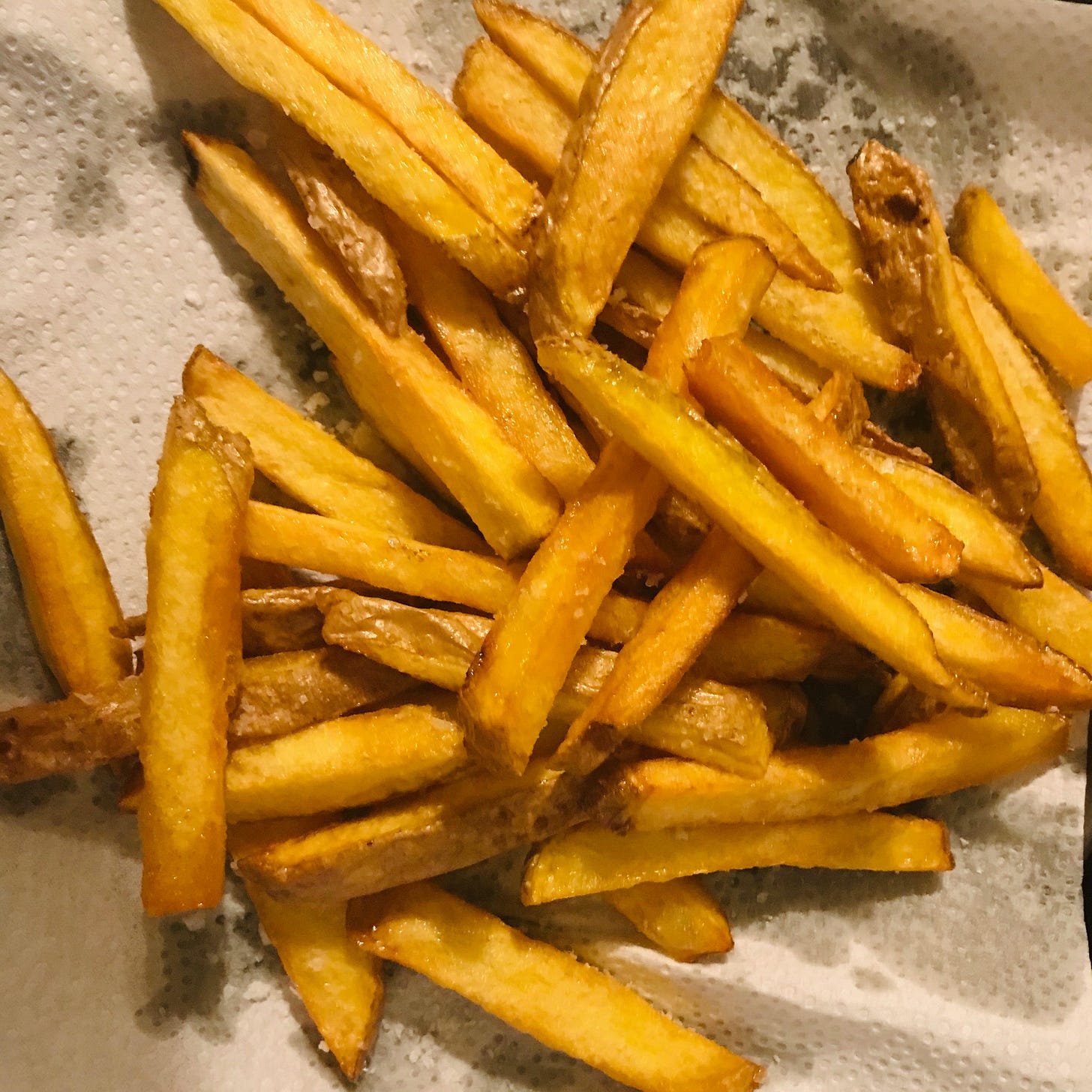 Have a wonderful day! We look forward to seeing you again on Friday. And, remember to hit reply to this email, or leave us a comment to share your thoughts with us. We're very much enjoying hearing from you - so do get in touch!
If you haven't subscribed, and you're reading this online or someone (wonderful) has forwarded this to you, please hit the subscribe button below and sign up, so you don't miss a newsletter. Plus, right now it's all completely free!
We look forward to talking again soon!
Alice, Kelly & Nici x