Week Twelve: Nici's Steak & Kidney with Dumplings!
It's been a tough week, but Nici's come through with a comforting, warming dish that'll lift your spirits! Welcome back!
What a week it has been. We know it will have been a tricky week, stirring up lots of different emotions, so we want you to know we're very much here for you at the moment.
Do reach out and let us know how you're feeling - we're all in this together.
As Annabelle White said to us earlier in the week, this is very much the time to be cooking food that's not just nutritious, but familiar, comforting and warm. Well, today Nici has the perfect recipe to see you through any cold or tough days when you need a little pick-me-up.
We're thinking of you, and will talk soon.
---
Steak & Kidney with Dumplings
Nici Wickes
When I took to the road in a rented campervan recently, with my darling parents along for the ride, mum brought along a big pot of her famous steak and kidney which we enjoyed for an easy heat n heat dinner then again on toast for breakfast. Absolutely scrumptious!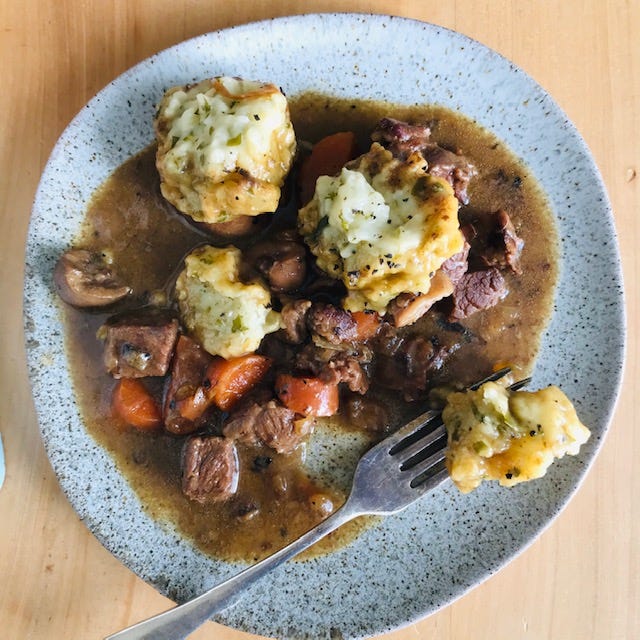 Serves 4
INGREDIENTS
350g beef steak, either chuck, cross-cut blade or rump

100g (about one)sheep kidney, halved, membranes and fatty nodules (white bits) removed

2 tbsp plain flour

2 tbsp cooking oil

1 large onion, diced

½ tsp salt

Decent grind of black pepper

1 or 2 carrots, diced

Dash of Worcestershire or soy sauce

1 bay leaf

200-250ml stock or water
METHOD
Cut beef into large bite size pieces and kidneys a little smaller. Dust meat in flour.

Heat oil in a medium-size, heavy based saucepan and brown the onions. Add the floured meat and don't disturb until some pieces (the ones on the bottom) are well browned.

Season with salt and pepper, add carrots, a dash of either Worcestershire sauce or soya sauce, bay leaf and pour in enough stock or water to almost cover the meat. Put the lid on and bring to a simmer and cook gently over a low-medium heat until the meat is tender - approx 1.5 hours. Cool overnight.
DUMPLINGS
1 cup plain flour

50g butter

1 tsp baking powder

¼ tsp salt

3 tbsp finely chopped parsley

½ cup milk (approx.)
METHOD
Rub butter into dry ingredients - flour, baking powder, salt - until it resembles breadcrumbs.

Add chopped parsley and then mix in the milk bit by bit until you have a soft dough. Flour your hands and gently pinch of tablespoonful sized balls of the dough, rolling each gently into a ball and dropping onto the simmering stew. Work quickly until all have been added.
---
Test Yourself! British Royal Trivia Answers
Missed Tuesday's edition? Click here to check it out online now!
1. Elizabeth. 2. Eight – Peter Philips, Zara Tindall, Prince William, Prince Harry, Princess Beatrice, Princess Eugenie, Lady Louise, James, Viscount Severn. 3. Cabbage. 4. Princess Anne. 5. Finding Freedom. 6. Kiri te Kanawa, who sang at the wedding. 7. 14th. 8. Kowhai. 9. 1992 – among the events: the separation of Prince Andrew and the Duchess of York as well as Prince Charles and Princess Diana. The divorce of Princess Anne and Captain Mark Philips. The fire at Windsor Castle and the death by suicide of her nephew, Prince Albrecht of Hohenlohe-Langenburg. 10. A pair of binoculars.
Sudoku Solution: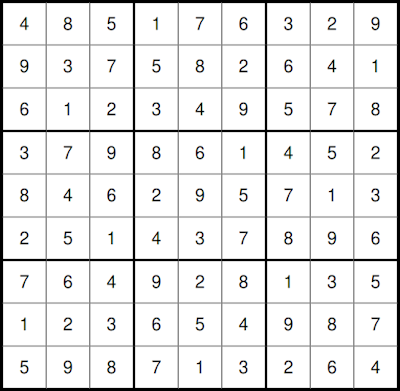 ---
That's it from us this week! We hope you have a lovely Friday! Enjoy your weekend, and we look forward to having your company again next week. In the meantime, do send us an email with your thoughts - simply reply to this email, or, if you're reading online, leave a comment below. And if you are reading online, do yourself a favour and start subscribing. Right now it's free! Just hit the button below.
Keep safe and well, and please do reach out if you'd like some company over this time!
Talk soon
Alice, Kelly & Nici x