Week Seven: Jude Dobson, Book Picks, plus This Week in the History Books!
Pop the kettle on and catch up with Jude Dobson, who tells us about her surprise guest during lockdown, a nerve-wracking phone call, plus her big dream for the future... Welcome!
We hope you're having a wonderful week - and managing to stay warm and well!
It's time to pop the kettle on, because today we're catching up with TV star (turned behind-the-scenes telly star!) Jude Dobson.
Jude had an unexpected guest during lockdown, and quite an unsettling ride - but we'll leave her to tell you all her stories!

And, make sure you check on your email again later in the week - Nici is sharing a very special carrot cake recipe, we've got expert help in the garden, and we're chatting to a vet about any concerns you may have over your pets!
In today's edition:
Sit Down For A Cuppa With…. Jude Dobson!

Book Worm: The best Kiwi reads to curl up with this month!

Test Yourself! Quiz: This Week In History…
---
Sit down for a cuppa with… Jude Dobson!
Jude Dobson is an icon of New Zealand television. From Sale of the Century, to 5.30 with Jude, to Dancing With the Stars, she's a face Kiwis have come to know well, and love. Beyond the telly, Jude has been a model, a maternity nurse, a student on several occasions, the face of Family Health Diary, and now spends the majority of her time working behind the scenes as an accomplished director and producer.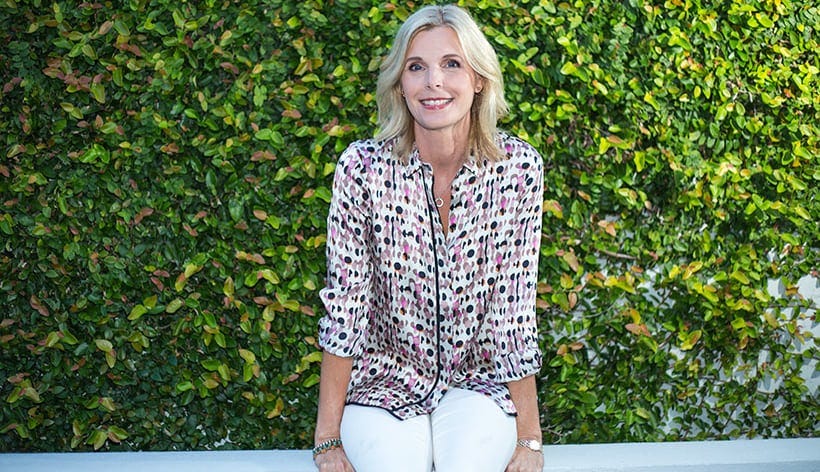 We caught up with Jude for a quiet cuppa at her home in Auckland, where – like many – her experience of lockdown/2020 so far, has been quite the whirlwind experience.
Jude, how was your experience of lockdown?
Well. I had to two documentaries to finish during lockdown, so the editor moved into my house! Both these docos have been a long time in production – they've kept me busy for two years, and they both aired on Anzac Day. They were really well received, so if I do no other production, I'm very happy to have done those.
But yes, we had to finish them during lockdown. So, I said to the editor, who I thankfully know well, "Grab your jammies and your toothbrush!" That was very interesting, but we managed to get them both done.
One aired on Maori TV at 5.30pm, The Liberation of Le Quesnoy, which is about New Zealanders in World War I - all about a little village in France that the Kiwis liberated without any loss of life to the French civilian population. And the second was New Zealand's Air Force – Then and Now, on Prime at 7.30pm, and that was a mix of World War II veteran's stories as well as what the Air Force do today. They were two very different beasts – the Air Force was lots of information put together and Le Quesnoy one was me, presenting and walking through that one event. So, yes, those first two weeks were quite busy.
By the sounds of it! And a very different experience – having your editor move in with your whole family!! My goodness.
Yes! Luckily we all know Mel quite well, but yes, it's a different thing when you finish work and say, "Right, goodnight, see you in the kitchen at breakfast!"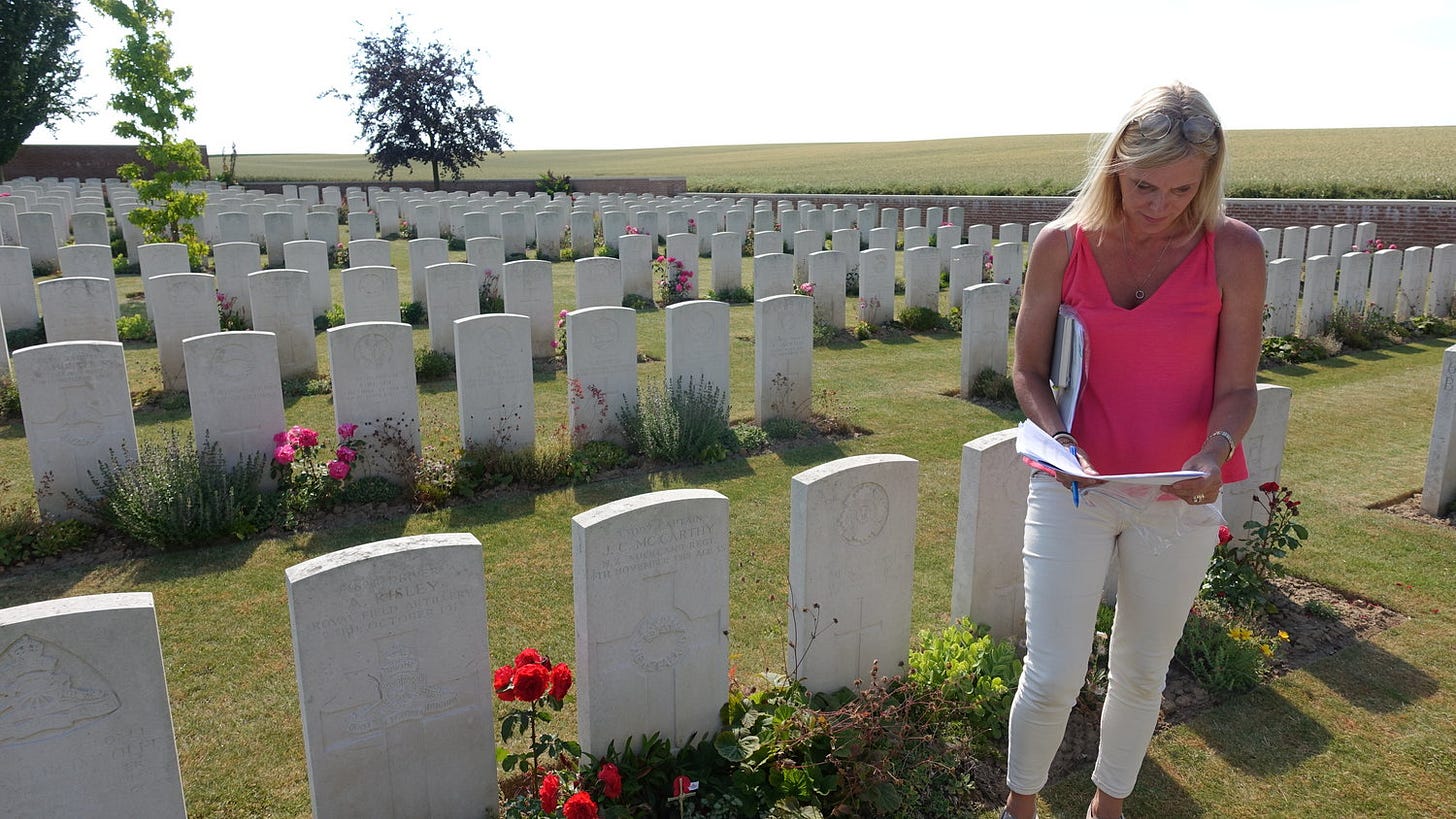 How has your family been – you've got them all still at home, don't you, apart from Ella, of course, who has been in the thick of it, living in New York?
It's been interesting. My husband's business, Super Shuttle – of course that's all to do with the airport and with the borders closed that has been very stressful. They've managed to keep working through lockdown in the different levels, repatriating people and helping essential workers – but it's pretty hard. They've run that Kiwi business now for, maybe 21 years? We're just hoping that Kiwis continue to help support Kiwi businesses!
My son is here doing his Masters, so he's been sitting here at home studying. The dog has continued to be very well-exercised since lockdown, when she started getting a run twice a day. In fact, if it gets to 4pm she goes to the door and sits by the drawer with her lead in it and looks at us as though to say, "Have you not looked at your watches?"
Rose, who is in Year 12, found the utopia of online learning to not be not quite so straight forward. I've been comparing notes with a lot of parents who have also found that the online learning world is not actually all that simple. But she's doing well.
Lovely Ella, well, she's been in New York where her flat-mate caught Covid-19. That was a very interesting phone call one morning. But thankfully she and the other three all tested negative.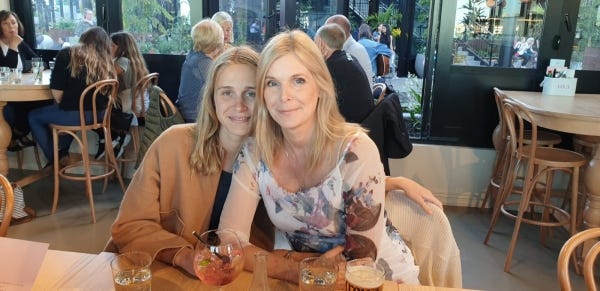 (Jude with her eldest, Ella)
My goodness! That must have been a very stressful time for you all.
Yes, I was thinking, 'How would I get up there if things took a turn for the worse?" I sent a care package – my brother is an Air New Zealand pilot, so he had a flight to Los Angeles just before lockdown and I sent her up gloves, Marmite, Shapes crackers, Crunchie bars, Maltesers and all sorts, which he very kindly couriered over from LA. She's doing okay though – spending a lot of time in her flat!
What did you learn or take away from lockdown?
The thing about lockdown is you really choose who you're communicating with. We did a few Zoom calls with old mates – I really found that those old mates were the good ones, getting to reconnect with them. That was good. At the end of the day, it all comes down to that saying: 'It is people, it is people, it is people'.
It was interesting working on the documentaries at the time – some people have been saying this is a bit like a war. And in some ways it is. It's something global that we're all fighting. When you talk to some of these living legends who are in their 90s, they are really highly resilient people, they really are, and I think some of that comes from that time in their youth. I think of my father – he went through a war, a depression! It shapes your thinking. Now we've got people rethinking of the value of things. I know I am. I think more now about how I don't want to waste food, and thinking more about what really matters.
What is it that draws you to those sorts of documentaries – you've done a few research pieces on war veterans now…
I've lost my parents, so I think what did it for me was I interviewed my parents in 2008. I'd been working on another show and I just thought, 'right, we're going to go interview my parents'. I did those tapes and they went on the shelf where they sat for maybe six years. Then, a couple of years before my mum died I got them down and went through them. We actually played it at Mum's funeral in 2016 – I played her own story.
I realised then, even within your own family, how much there is that you don't know. It's so lovely to look back at those tapes now and hear my mother's voice and hear my father's voice and hear them tell their stories.
When I do those documentaries and talk to these people, they've gone through extraordinary things – but without doubt, every time the families have said to me, "I never knew that," or "Dad never told me that."
I feel like capturing their stories, it's something I can do – some people don't see the value in it, but I see extraordinary value in capturing those stories.
What I love about the war veterans is it's just average people doing extraordinary things in extenuating circumstances. I think it's also that amazing New Zealand spirit that shines through all of these people, they just got on with things, they didn't fuss, they got on with one another and that number 8 fencing wire mentality was alive and well.
If I could wave a magic wand and magic up some money, that would be my absolute dream job, going and talking to these people, hearing them, sharing them. That would be the dream full-time job: capturing people's stories, particularly the older folks.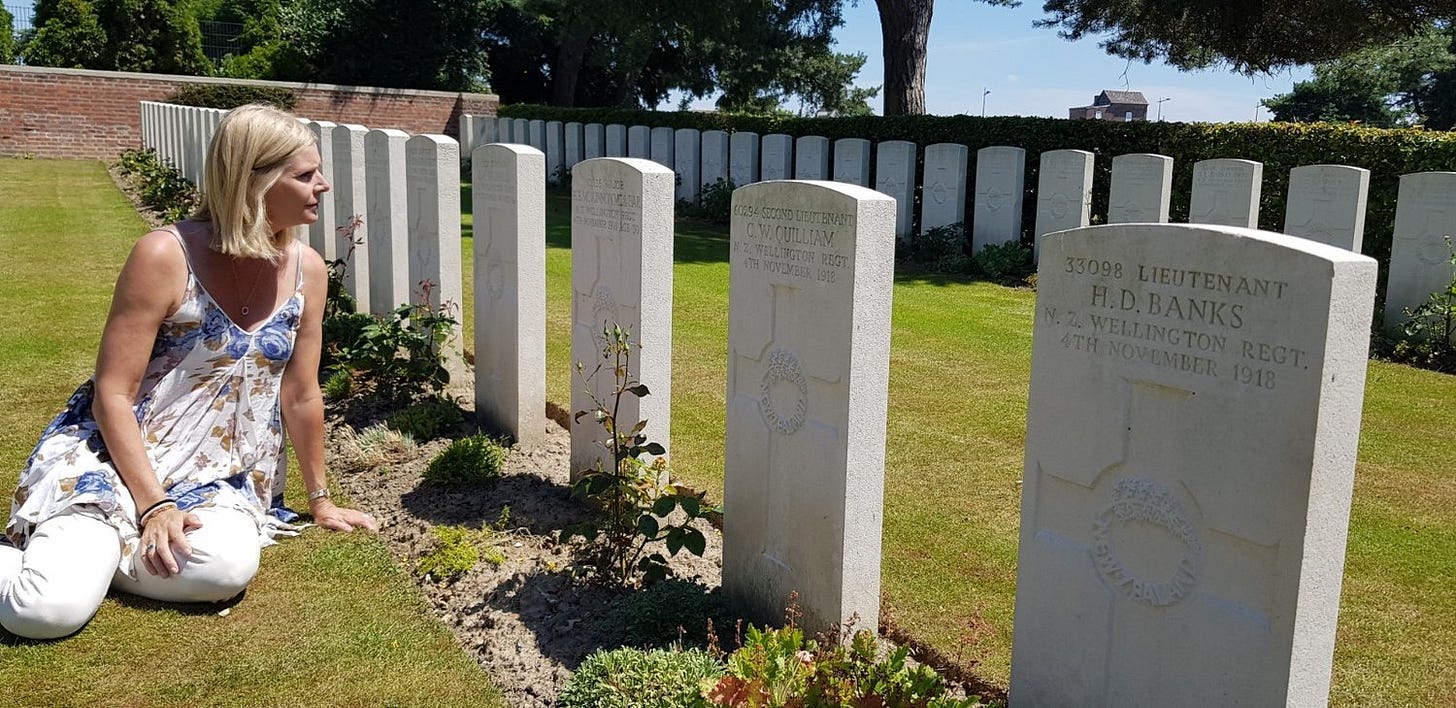 You do a lot of work with the older generation, but you've always had a tie to the younger end of the spectrum too, haven't you. You started off as a maternity nurse – and you spent years working on the Raising Children series…
Yes, I'm actually just going through and subtitling all the Raising Children videos at the moment. We've got a hundred of those sitting there. I just realised that a lot of people might watch videos the way I do – on silent at 2am when they can't sleep, and need subtitles so they don't keep the person beside them awake!
I'm good at either end of the spectrum I guess – I'm good with the littlies, and with the oldies! I think it's the nurse in me, but, it's very cheesy, I just have that yearning to help, so I go to the more vulnerable ones. I'm a helping individual at heart.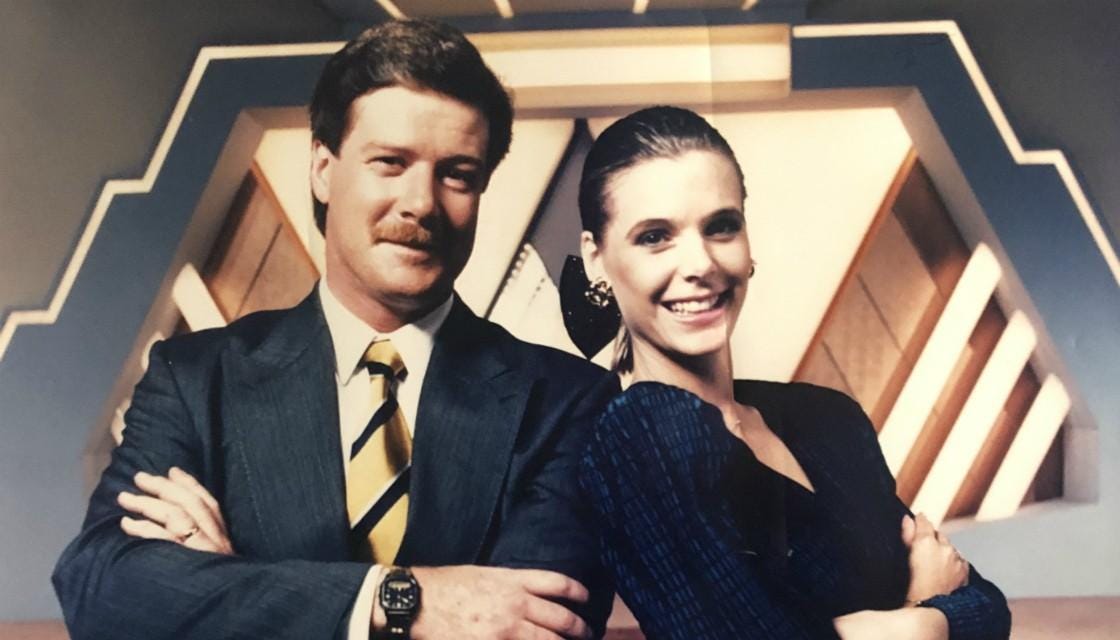 (Jude and Steve Parr on Sale of the Century)
Do people still stop you on the street and ask you about your previous jobs on the telly? Do they want to know about Sale of the Century?
It comes and goes. I don't really think about it. I pay no attention to it. The kids think it's pretty funny. Ella had someone looking at her Instagram who said to her, "Oh my god! Your mother did Dancing With The Stars!! She's cool!!" And Ella said, "Oh no, she is cool!"
I laugh about it. I told Ella my Dancing photos are good ones for the funeral roll. I've said that to her a few times – "make sure it's in the funeral roll!" She said, "Argh mum! Only you would think that practically!"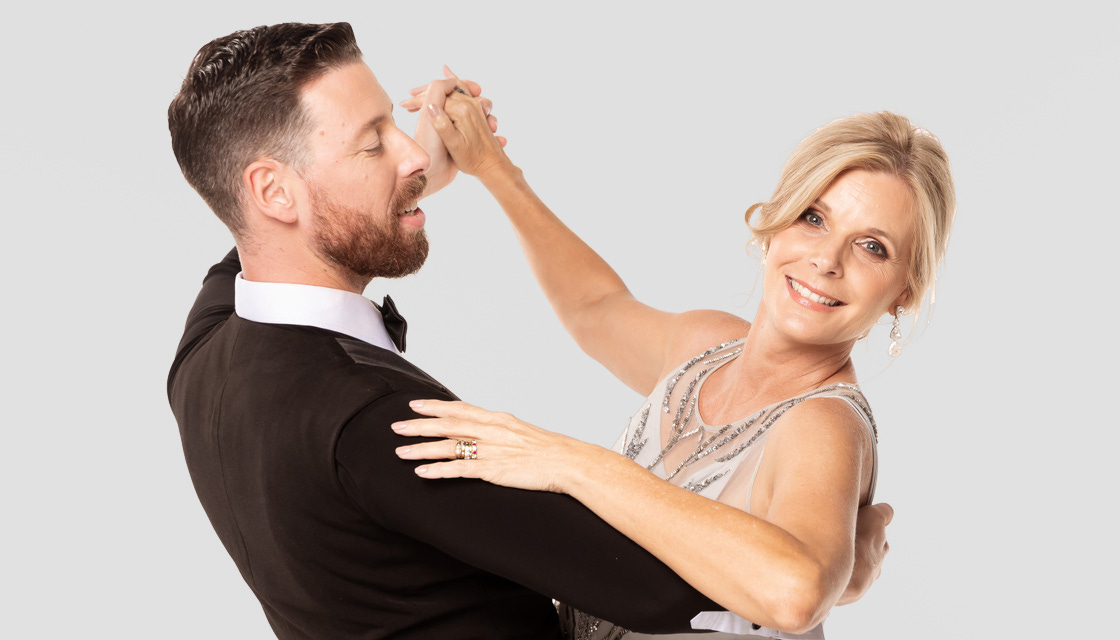 Lastly, if you could have a cuppa with anyone, who would it be?
I have always been fascinated by Princess Diana so I'd love to know what went on there. She was just an icon. I know the royal family can be an odd bunch, but she was just amazing. I'd love to have been able to talk to her. She was a bit of a wounded soul who forged ahead. She'd be my pick.
---
Book worm: Our book picks for the month!
There are a plethora of great reads out there at the moment, but here are two Kiwi reads we recommend.
A tropical island escape!
Love Struck by Bronwyn Sell (HarperCollins)
It sounds like heaven right now, doesn't it? Jumping on a plane and finding yourself somewhere tropical and warm, with dips in the sea and a sunny cocktail to cool you down. Whilst all we can do right now is fantasize of escaping winter, Auckland writer Bronwyn Sell's latest novel is just the ticket for some summer dreaming and pure, romantic, joyful escapism.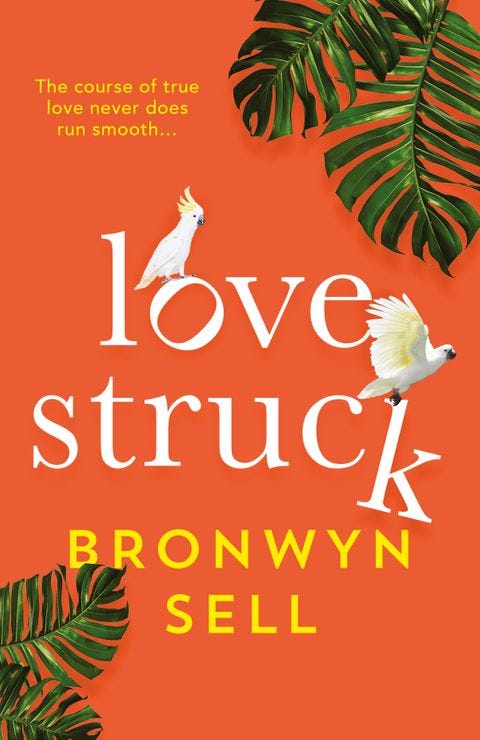 The action takes place in a Whitsunday's resort, run by a romantically challenged family, which becomes a hive of activity when their wider family descend for a wedding. In the days leading up to it Amy makes the crushing realisation than her single, tango-dancing mum and besotted groom-to-be dad have hotter love lives than she does. But then she locks eyes with an alluring stranger – who has a look in his eyes that definitely says 'more than friends' – although unfortunately not in the way she hopes. Loner Josh is ecstatic to meet his step-sister to be, and proud to be at the union of their two fathers.
The author Bronwyn Sell is an award-winning journalist – and a best-selling author. And she nails it with this is a clever and heartfelt romantic comedy, with many captivating subplots and characters to keep you enthralled. Highly recommended if you're looking for some pick-me-up, feel-good reading!
Woven in history
Going Home by Carole Brungar
You may be familiar with ex-journalist Carole's early critically acclaimed novels – The Nam Legacy and The Nam Shadow. Once again, Carole – who works full-time as a school librarian in her home of Horowhenua – transports us to Vietnam, telling a fictional love story against the backdrop of the War.
Her research for this book was once again extensive, speaking to many veterans, and in writing it she hopes to encourage more dialogue about the Vietnam War, and New Zealand's contribution.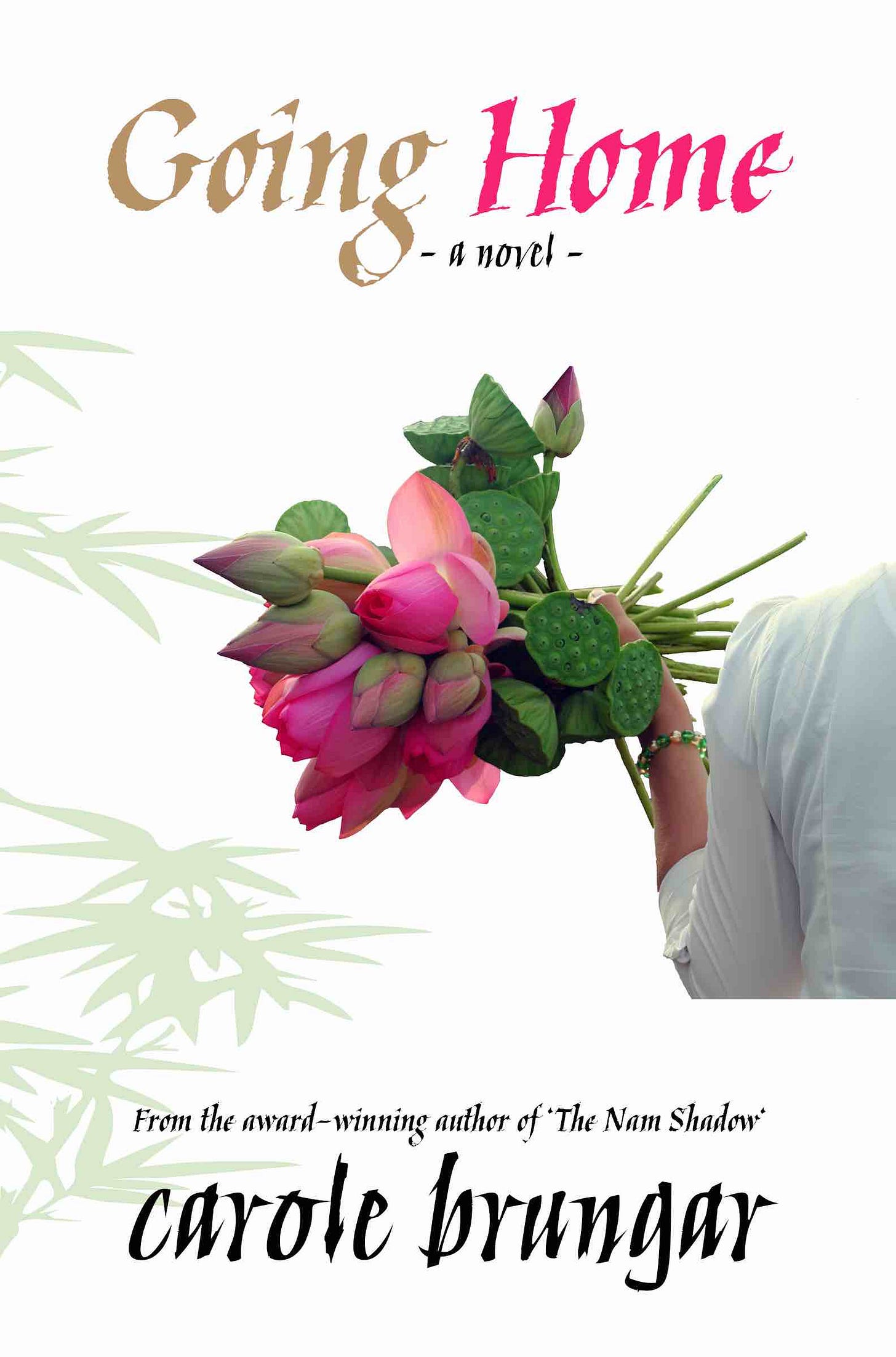 Carole says, "I see it as a conflict governments want to forget. There is any number of stories set during WW1and WW2, but very little in the way of fiction set during the Vietnam conflict which caused a huge reaction not only here in New Zealand, but in Australia and America as well."
Going home focusses on fictional character Ronnie McIlroy, who volunteers to spend twelve months nursing in a South Vietnamese hospital, but she is ill-prepared for a poverty-stricken country at war. Hard-working, she knuckles down to do all that she can to help. She is cautious when she meets an American pilot, Joseph Hunter Jr. They know the odds are stacked against a relationship, with the war between the North and South escalating, hundreds of lives are being lost every day. As Ronnie and Joe navigate the constant dangers of living and working in a war zone, it's clear fate has decided their time and place to fall in love is now. But will one naïve act of compassion destroy any chance of a life together? Will either of them leave Vietnam alive?
---
Test Yourself! Quiz: This Week In History…
On July 11 a 19-year-old from Pakuranga gained the world's attention when she was crowned Miss Universe. Who was that young star?

Sir Richard Starkey hits a milestone this week – celebrating his 80th birthday on July 7. What name do we better know the hit musician as?

Sliced bread was sold for the very first time on July 7 by a baking company in Missouri. What was the year: 1908. 1918 or 1928?

On July 7 1924, Kiwi Arthur Porritt won a bronze medal in the 100m sprint at the Paris Olympics. When a film was made about the event, out of modesty Arthur refused permission for his name to be used. What was the name of that famous 1981 film which won an Oscar for Best Picture?

The Three Tenors came together for their very first concert on July 7 1990, held at Baths of Caracalla in Rome. Who were the three tenors?

The very first official lawn tennis tournament, Wimbledon, began. What was the year: 1855, 1877, 1899 or 1919?

On July 8 an American movie star turns 69. She was the third generation in her family to win an Academy Award – her father, a director, and grandfather, a fellow actor both received Oscars. She was formerly married to actor Jack Nicholson for more than a decade, and has acted in more than 50 films. Who is she?

On July 10 The Rainbow Warrior was targeted by French secret agents, killing one crew member in one of two explosions. What was the year?

The hit song Wannabe was released on July 8 1996. Which band released it as their very first single?

On July 9 1855 Rock Around the Clock hit number one on the billboards charts – who was the artist?
Check your email inbox later this week for the correct answers!
---
Brain Test! Sudoku Solution for Week Six.
Missed the newsletter last week? See it here before you peek at the answer!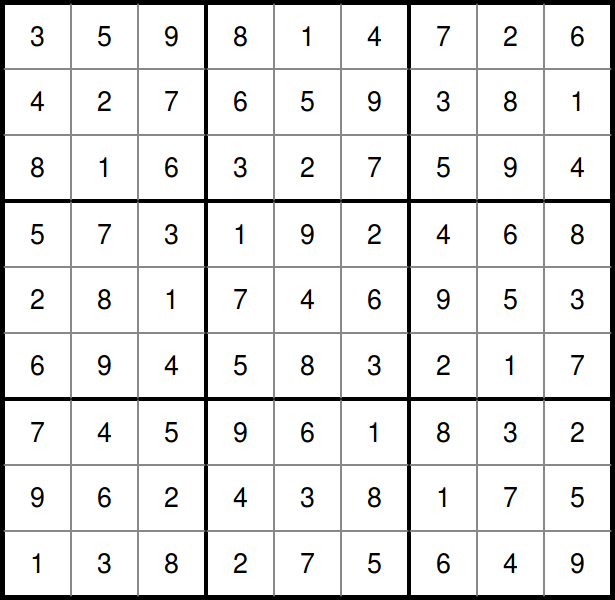 ---
Coming to your inbox later this week: 'Nici's Delicious Carrot Cake Recipe', Leigh's Gardening Guide - Adding A Focal Point, plus NEW: Put Your Pet Questions To Our Resident Vet!
What do you do when you go to make a cake, but realise you're out of eggs, and butter?!? Nici faced this conundrum lately, but forged ahead and ended up making the most delicious cake - which now just happens to be vegan!
She shares her magic recipe later in the week, plus we catch up with Leigh in the garden, and talk to our resident vet about arthritis in pets.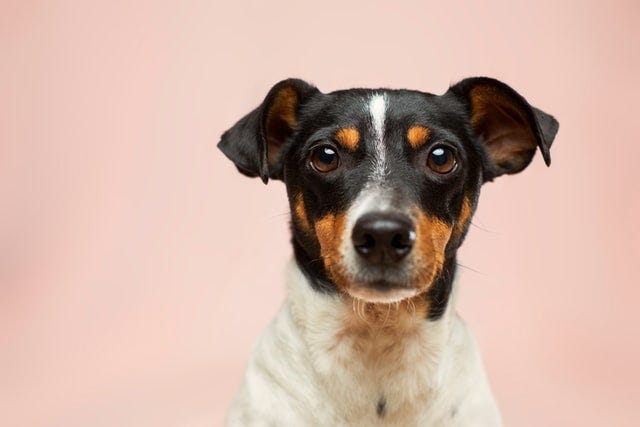 Have a wonderful evening! We look forward to seeing you again later this week. And, remember to hit reply to this email and get in touch in the meantime. We'd love to hear from you.
We look forward to talking again soon!
Alice, Kelly & Nici x