Week Nine: A Cuppa With Colin Hogg, plus Leigh Bramwell's Tips For Herb Gardens
It's been a heartbreaking year for writer Colin Hogg.
Welcome back!

Happy Friday. We hope you've had a lovely week!
If you haven't already, pop the kettle on because this morning we're catching up with writer Colin Hogg. Colin's had quite a devastating time through lockdown - and fills us in on what has happened, while having a stroll down memory lane.
Then, Leigh Bramwell is here to let us know why we should be segregating our herbs in the garden.
We hope you enjoy reading! And as always, please do leave a comment or hit reply to this email to share your thoughts. We love hearing from you.
---
Sit down for a cuppa with… Colin Hogg!
Colin Hogg started his journalism career as a 17-year-old cadet on the Southland Times, eventually becoming a legendary music writer and reviewer for the Star and the Herald. He's done it all in the media – from establishing his own TV production company, regularly appearing on the TV advice show How's Life, to writing articles, columns and ten books. He won the 1999 Television Award for his work on Crump – a feature-length documentary about writer Barry Crump. He says the book he's perhaps most proud of writing is Going South, a travel memoir of sorts about a roadtrip with his close friend, Gordon McBride, who later passed away. He also wrote The High Road: A Journey to the new Frontier of Cannabis, and his latest, about his best mate, titled Sam Hunt: Off the Road. Colin has five children, a lovely wife Philippa, and a cat, Charlie.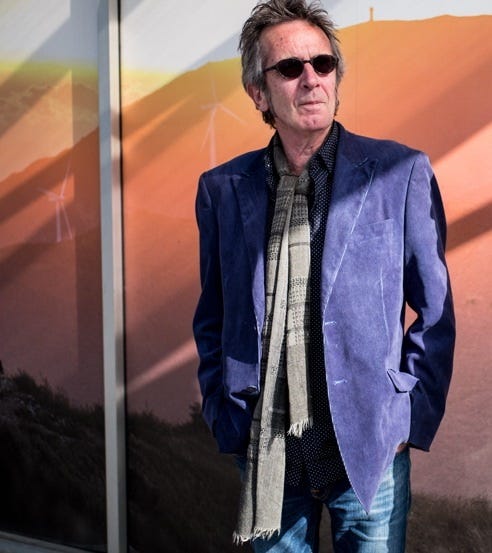 How was your lockdown experience, Colin?
Well, we moved to Auckland just before the lockdown – we'd probably been in the house a week, which was lucky really because a lot of people got caught in between. But then my mum got really ill. Well, she had been ill right up until lockdown – she's 94, she'd had a stroke. She went into a really terrible decline. She's down in Christchurch and I was up here in Auckland and I wasn't able to visit her. Anyway – I'm sorry to say, she died in the end. It was a very long, drawn out process. I was able to get in to see her, on what ended up being her last day.
My goodness Colin. I'm so incredibly sorry about your dear mum. I know how close you were.
No, no, it's alright. I was ringing every day and she was going downhill – it was very confusing for her. And by the sounds of things there were a fair few poor old things who were caught up in lockdown. The rest home went into an extreme lockdown, and quite rightly because there had been those outbreaks – particularly in rest homes in Christchurch. So they were certainly doing the right thing. But yes, there were some unintended victims.
I'm glad to hear you were at least able to be there on her last day.
Yes, it was. They say sometimes that they hang on for you, but that always makes you feel a bit worse, in a way. So, that was my lockdown.
And what about your kids – they're spread out all over the world?
Yeah, they're in the worst places. [Laughs] Two of them are in Melbourne, and things are pretty grim there now. And my son is in New York and things were pretty bad there – he's a chef and so his restaurant was shut there. But it's opening again this week. New York went through the crisis towards the beginning, so things are getting better there. The rest of America seems in chaos. The kids are all okay, but it has been a worry. They're all sensible though, and all keep in touch.
Goodness, Colin. You've had a lot going on. What have you been doing to look after yourself and one another?
Well, prayer and self-flagellation mainly [Laughs]. Well, Philippa was working from home - I mean I've worked from home for three decades, so suddenly having a shared workspace has been a mixed thrill. She's in the film industry and was working with all these American producers who wanted to get to New Zealand so all I could hear was American accents yelling all over the house. Lots of shouting, "GOD DAMN!" in that accent. There was that. When lockdown was coming I shot out to the gardening shop and bought a whole lot of earth and big pots and made a huge temporary vegetable garden which amused us. And being in a new house had its upsides, I mean, you can't find the things you want. But you're moving in and there's pictures to hang, all that sort of stuff.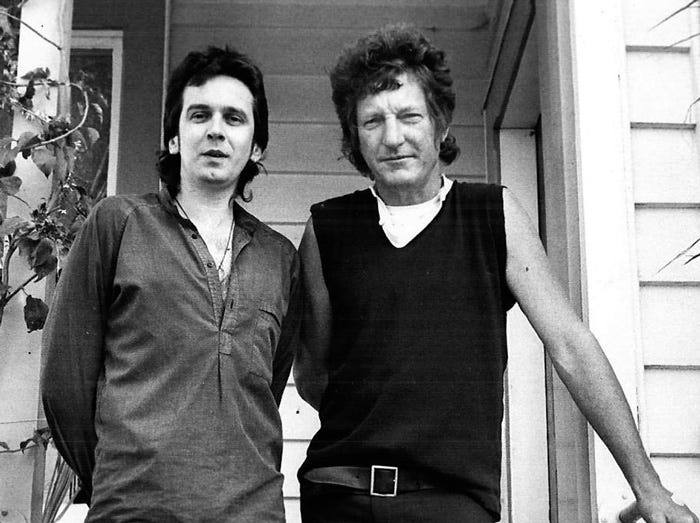 (Colin with his good mate, Sam Hunt)
And how has it been, living back in Auckland?
It was weird coming back to Auckland and not really being able to see Auckland – just being stuck in the neighbourhood. I love it here. It felt like a weight of my shoulders. I love Wellington, don't get me wrong, I mean, you can't say you don't like Wellington or they put a sign up at the airport and don't let you back in. But the weather really does get you down. That wind, six years of it… I've paid my dues.
How has the cat taken to her new home?
Charlie? She was good actually. We flew her up and put her in a cattery for a week, but she just walked around the section once, shrugged, and got on with it. There's a lot of cat politics though. We're in Remuera and all the cats around here are those haughty purebreds, you see. There's a lot of stuff going on out there – meetings, showdowns, all kinds of things. We had to change the cat door because the neighbourhood cats were all coming in during the night. I woke up to a cat fight under the bed one night. So we've had to put one of those microchip doors in so that only she can get in. It's a very catty street. But if that's my biggest problem, it's not much.
Are you still working on another book?
Well it hasn't been a good time for work. I lost you guys, which was terrible. Well, you guys lost you too which was terrible. I had a book contract, but it involved travel overseas so that's all a bit up in the air now. I've got a column in the local magazine here, The Hobson. It's quite a nice magazine – lovely paper. It's interesting, I've got a column between David Seymour and Paul Goldsmith. So I think I'm the bit of rough.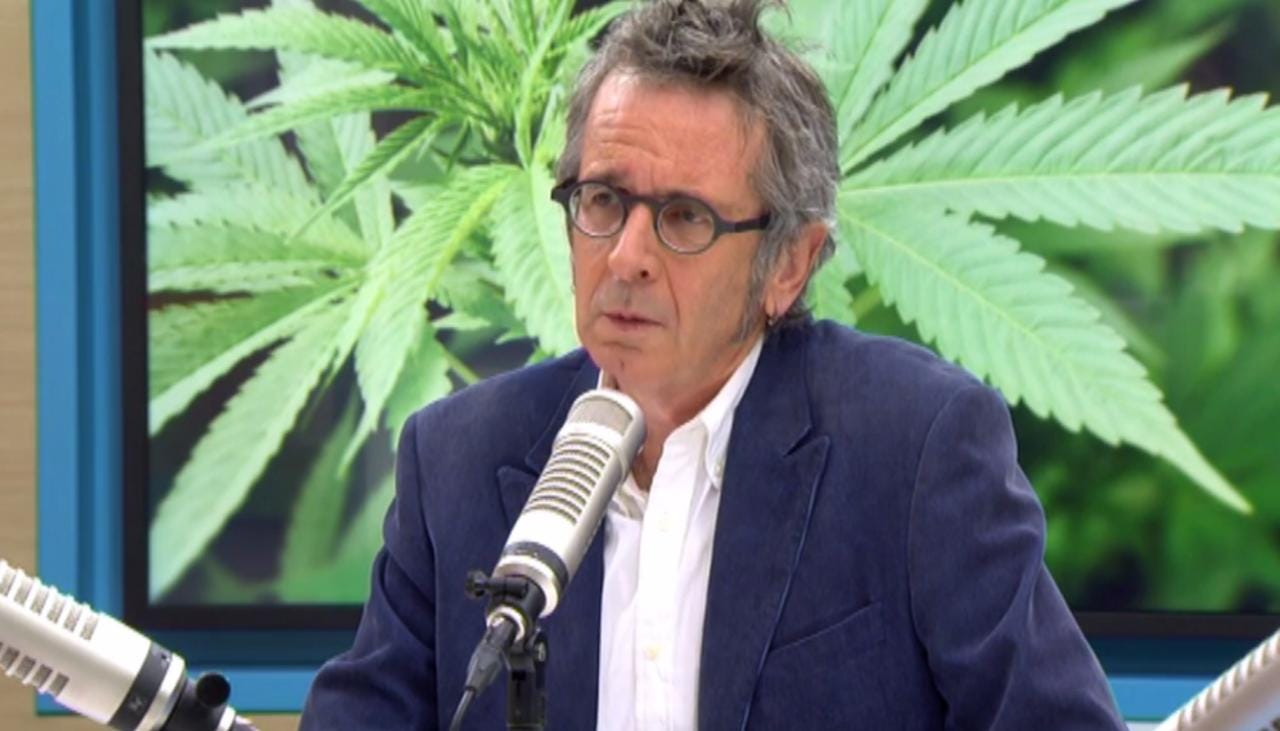 (Colin on the telly, talking about his book, The High Road)
Did you always want to become a writer?
Well at school I was given three choices really, I could be a librarian, a teacher, or a journalist. Which doesn't take much thinking about, I thought at the time. I always wrote as a kid.
How did you earn your first dollar?
I delivered newspapers In Invercargill – the evening one, not the morning, you'd have died doing that with the frosts there. We used to work on farms picking potatoes, collecting bottles and selling them to the bottle guy. I think I got pocket money for cutting the lawns too. And I worked after school in a butcher's shop, making sausages. I've never eaten one since.
What would you say has been your biggest achievement?
Persisting really. I can write a bit, but I've always been reasonably good at marketing myself. I just think I've been so lucky, because I've been able to write and get paid. But not only that, I've been able to write about the kinds of things I'm interested in and feel really passionate about. I think probably my greatest achievement was writing for the Weekly since 1982. It's sort of like writing an alternative history. It was terrible being stopped, because it was like being stopped mid-sentence. It's not a good feeling. When things happen, I've always found writing about them sort of helps. So losing mum, it was quite strange in a way to not get that out.
Oh absolutely, it would have been cathartic to write. And you shared so much about your mum, I'm sure the readers would have wanted to know and have been able to be there for you. And you're right, it was a bit tough being cut off mid sentence. I felt terrible that my last editorial was all about how we wouldn't be going anywhere. I felt so guilty that we let people down, and I didn't make good on my promise to stay connected through lockdown. It's why we started this newsletter, really.
It was terrible timing! You feel like you've let people down, or betrayed them. Which is ridiculously really, because it was entirely out of your hands. So good on you lot for doing this.
Thanks Colin. Is there anything you wish you were better at doing?
I'm not very good if people send me a text. I do this thing where I go, 'whoa, that's interesting!' But then I forget to go back to them. I don't know why I do that. I'd be useless at tennis. I'd go, 'wow, that's a good serve.'
Ha! And finally, if you could have a cuppa with anyone, who would it be?
I would really like to have a cuppa with Jacinda actually. I think she's a marvel. Also I'd really like to catch up with Charlie Watts, the drummer from the rolling stones – I named the cat after him. He's a musical hero of mine – I like the unsung ones. But Jacinda I think she's a flaming hero, she's done so much for us. She's been inspirational and it's just really made me feel proud. It's been a long time since we had a leader like that.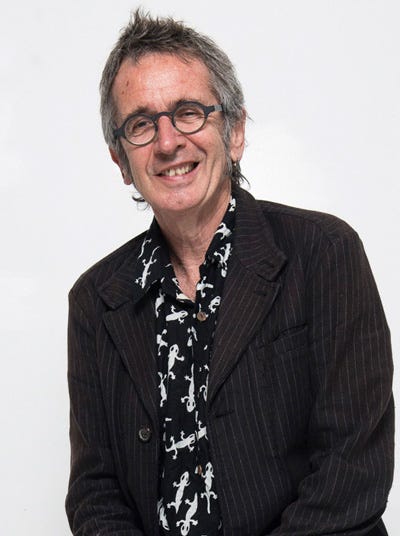 ---
In the Garden: Leigh Bramwell's Tips for your Herbs!
Leigh Bramwell is a gardening expert - she's spent "forever" as a journalist (at ODT, NZ Herald, her own glossy garden design mag Alfresco and as the Gardening Editor at New Zealand Woman's Weekly), in public relations, TV, book author… she's done it all! Who better to get some advice from!?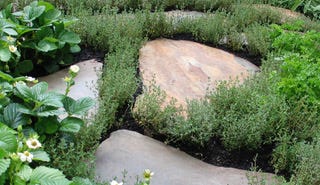 Q: Why do we have separate gardens for our herbs? Do they really have to be segregated?
A: I've had a dedicated herb garden along the front wall of my studio for the past few years and it has always looks a mess. It has too much stuff in it and I've never been inclined to look after it properly.
The problem is that wall-to-wall plants never look truly fabulous unless you're planting a hedge, and the principals that govern good garden design also apply to your herbs.
So don't corral them all in one place – plant them in areas specific to their needs so they get the right amount of sun and/or shade. Add a bit of hard landscaping, throw in some elements to provide texture and contrast, and make the area somewhere you can walk, sit and enjoy.
I love the use of the big, flat rocks in this herb area. They give it a bit of designer flair, and they help to integrate the space with the wider garden. If you don't have rocks on site you could use 'pools' of pebbles or small river stones.
Hear more from Leigh by clicking here
---
Missed Tuesday's edition? Click here to check it out online now!
Tuesday's Answers: This Week In History Quiz
1. $360,000 . 2. Sonia Grey. 3. Rocky III. 4 1865. 5. Apollo 11. 6. One Direction. 7. Windsurfer Barbara Kendall. 8. 007, Daniel Craig. 9. Eight, ranging from age 22 to 49. 10. Beekeeping.
---
That's it from us this week! We hope you have a lovely Friday! Enjoy your weekend, and we look forward to having your company again next week. In the meantime, do send us an email with your thoughts - simply reply to this email, or, if you're reading online, leave a comment below. And if you are reading online, do yourself a favour and start subscribing. Right now it's free! Just hit the button below.
Talk soon!
Alice, Kelly & Nici x