Week Fourteen: Nici's Tamarillo Ricotta Tart
Pop on the kettle on - and the oven! - because Nici has the perfect sweet afternoon treat! Tamarillos. The jewels of winter! This simple custard tart is such a gorgeous quick dessert to whip up.
Tamarillo Ricotta Tart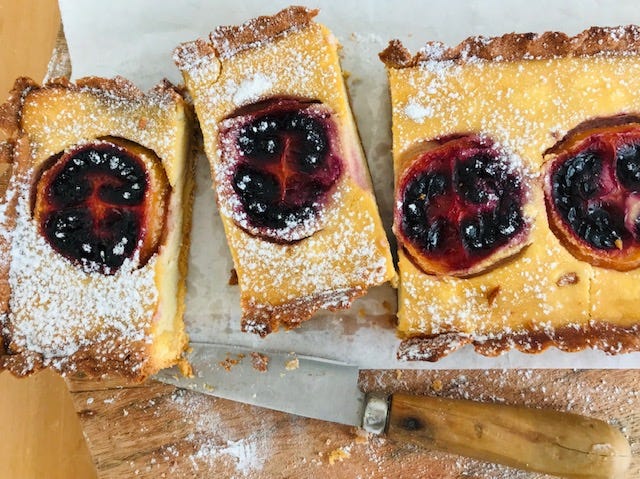 Serves 4-6
INGREDIENTS
1-2 sheets sweet short pastry

4 tbsps brown sugar

1 whole egg + 1 yolk

150g ricotta

100ml cream

2-3 tamarillos, peeled
METHOD
Preheat oven to 180 C and place an oven tray in to heat up.

Line a tart tin with pastry, prick all over with a fork and chill for 30 minutes in freezer. Pop in the oven to cook for 12-15 minutes or until golden all over.

While pastry cooks, whisk together brown sugar and egg/yolk until combined. Whisk in ricotta and cream. Pour into cooked par-cooked pastry case.

Peel tamarillos using a serrated knife and slice into 1-cm thick slices. Lay these on top of filling. Bake for 20 minutes (on preheated tray) until set and pastry is golden brown.

Cool for 10 minutes before serving, dusted with icing sugar and with whipped cream.
Nici's note: Use up the extra egg white to make macaroons; Whip up egg white with a fork until frothy, add in about ½ cup coconut, a few tablespoons of sugar and 1 heaped tablespoon of plain or GF flour. Mix until combined. Shape into little rounds on a baking tray and bake at 180 C fanbake for 15-18 minutes until golden.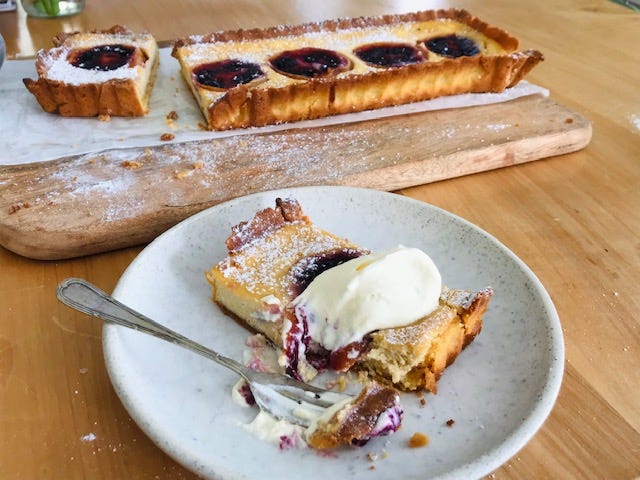 ---
Test Yourself! The Biggest TV Shows of the 1908s Quiz Answers
Missed Wednesday's edition? Click 

here 

to check it out online now!
Boston, Massachusetts. 2. Full House and ALF. 3. The Golden Girls. 4. Who's the Boss? 5. Cybill Shepherd. 6. Murder She Wrote. 7. Heights. 8. The Wonder Years. 9. Three's Company. 10. She was one year older than her onscreen mother.
---
That's it from us this week! We hope you have a lovely rest of the week, enjoy your weekend, and we look forward to having your company again next week. In the meantime, do send us an email with your thoughts - simply reply to this email, or, if you're reading online, leave a comment below.
Talk soon!
Alice, Kelly & Nici x