Week Four: Mike van de Elzen, The Queen's Wonderful Birthday Present, plus, a Touch of Hollywood from David Hartnell
Welcome back to a A Quiet Cuppa! Put the kettle on, it's time for a catch-up with old friends. Welcome!
It's wonderful to have your company!
This week we've certainly got food on the mind. We've loved watching Mike van de Elzen on the TVNZ 1 show, Eat Well For Less, so we took a wee trip out to his Muriwai home/cooking school for a cuppa and a natter.
And, our lovely Food Editor Nici Wickes has of course been busy in the kitchen for us all - later in the week she'll be sharing her delicious pork and fennel sausage rolls. Plus we'll be checking in with health writer Donna Fleming about the foods we should be eating during winter to boost our immunity. Despite all our wonderful social distancing measures, those winter ails are still about, so read up to stay on top of your health!
And, we have another familiar face on board with us this week - scroll down for a touch of Hollywood from celebrity gossip columnist David Hartnell!
So, if you haven't already, pop the kettle on and enjoy today's newsletter. If you are new to A Quiet Cuppa - welcome! We're thrilled you've joined us! To get a good understanding of what these newsletters are all about, how they work and how they came about, please click on this link here to get you up to speed.
Right, on with the show!
In today's edition:
Sit Down For A Cuppa With…. Mike van de Elzen!

Royal Watch: The Queen's Best Birthday Present Ever.
---
Sit down for a cuppa with… Mike van de Elzen
You'll know him from The Food Truck, Kiwi Living – and his face happens to be on a lot of products at the supermarket lately!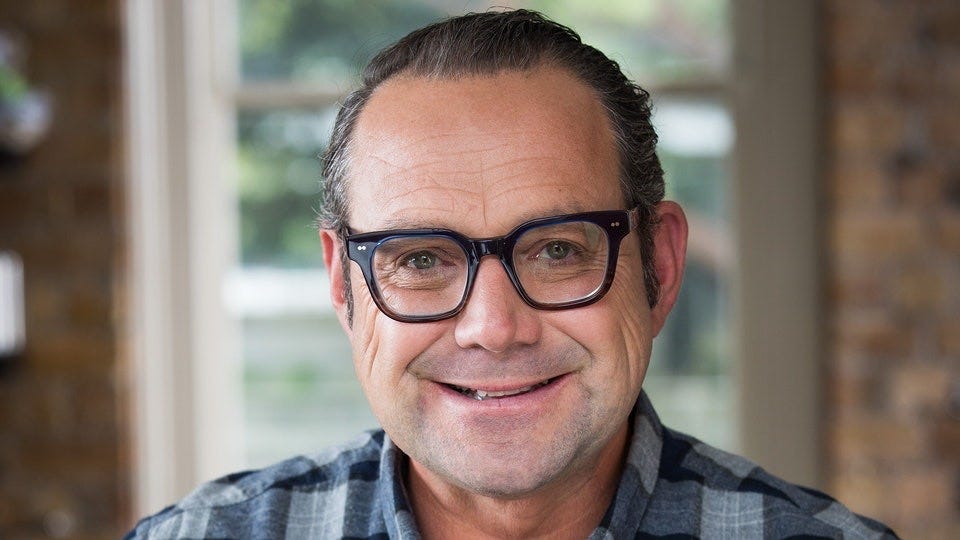 Mike van de Elzen's worn many a hat in his long career, from running a successful Auckland restaurant, through to being a brand ambassador, healthy eating advocate and a TV star.
Last night the final of his newest TV show screened – New Zealand's version of Eat Well for Less, a local remake of the hit UK show that helps families cut down the shopping dollars and ramp up their health, a show that's "an absolute dream" for Mike. The whole show is now up on TVNZ OnDemand, so be sure to give it a watch here!
And until this virus hit, Mike (46) was determined that 2020 was going to be his year, after a truly horrific 2019 that almost broke him – literally. From being diagnosed with throat cancer, which threatened his voice, through to a motorcycle accident that resulted in a broken ankle, two torn knee ligaments and a severely bruised back, it was his own annus horibillis.
G'day Mike! Nice to see you safely ensconced in your new Muriwai compound! You've just opened a cooking school out here?
Yeah, and suddenly everything's coming to a crashing halt! But anyway – such is life. We're starting a bit of a community thing on the school. We'll start a bit of an online delivery service for people in need. Hopefully we'll fill that gap.
Well on a positive note, your new TV show went gang busters!
Yes! There has to be a positive out there somewhere! I saw the UK version over a year ago, and I sent an email to my manager and said, 'we've got to do this in NZ, this has to be a show that I'm apart of!'. It's so up my alley. Lo and behold, three or four months – 'we're holding auditions!'. It was a cool show, and it had a natural feel and filming. I could just totally be myself, and when that happens you know it's a natural fit.
For those who have missed it, can you give a basic premise about the show?
People apply to be on the show, and they may have various food issues like overspending on convenience food, or maybe they're not cooking and surviving on takeaways. Some families were spending more than $1000 a week on food, some families were spending $250, but then going out and eating takeaways most nights. Each family had its own unique situation that we tried to help solve, with the end result them eating healthier and saving them some money.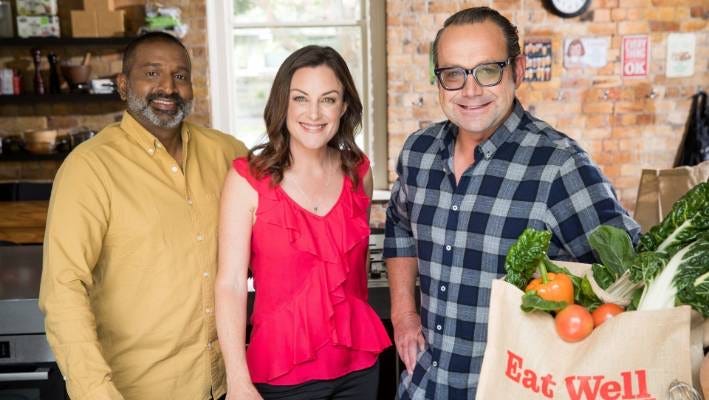 (Mike with his co-host Ganesh Raj and nutritionist Angela Berril)
It must have been quite a rewarding process?
It was, and walking away saying 'keep in touch'. We were finding ourselves handing out our numbers saying, 'anything you want to talk about, just give me a bell'. Yes we were doing a TV show, but it didn't feel like there were cameras on us. Although I hate it when your Kiwi version follows the original – like Aussie MasterChef, and then you go into the Kiwi one afterwards, and you're like, ugh. We don't have budget, we don't have the talent pool – it's always a bit of a, nothing against us, but we're a little more reserved about letting our emotions out! But I think our Kiwi show is pretty cool.
Maybe this has been a good time for the show to air, given the fact everyone's at home with a bit more time to get back in the kitchen?
Yeah, I was thinking about that on my run this morning. It's reasonably good timing – there's good advice around what we buy, how we cook, things to look out for around food shopping, what we stock our pantries with and what we need and what we don't need. Hopefully it's a bit of a reality check.
Speaking of all the new things that are happening, you've got a lot on your plate – pardon the pun – at the moment; you're a chef, teacher, ambassador, television star…
I like to be busy! I like having lots of things going on. And, it's called having a wonderful wife. That's the only way I manage to do it all! Happy wife, happy life, that's what it comes down to. I'm so lucky to have Belinda. She keeps it all going. As long as the house is in check, then I can do anything. As long as the kids are getting looked after, they're doing their homework, get to bed and getting read a story, I'm stoked. I'm a one-man band at the cooking school mostly.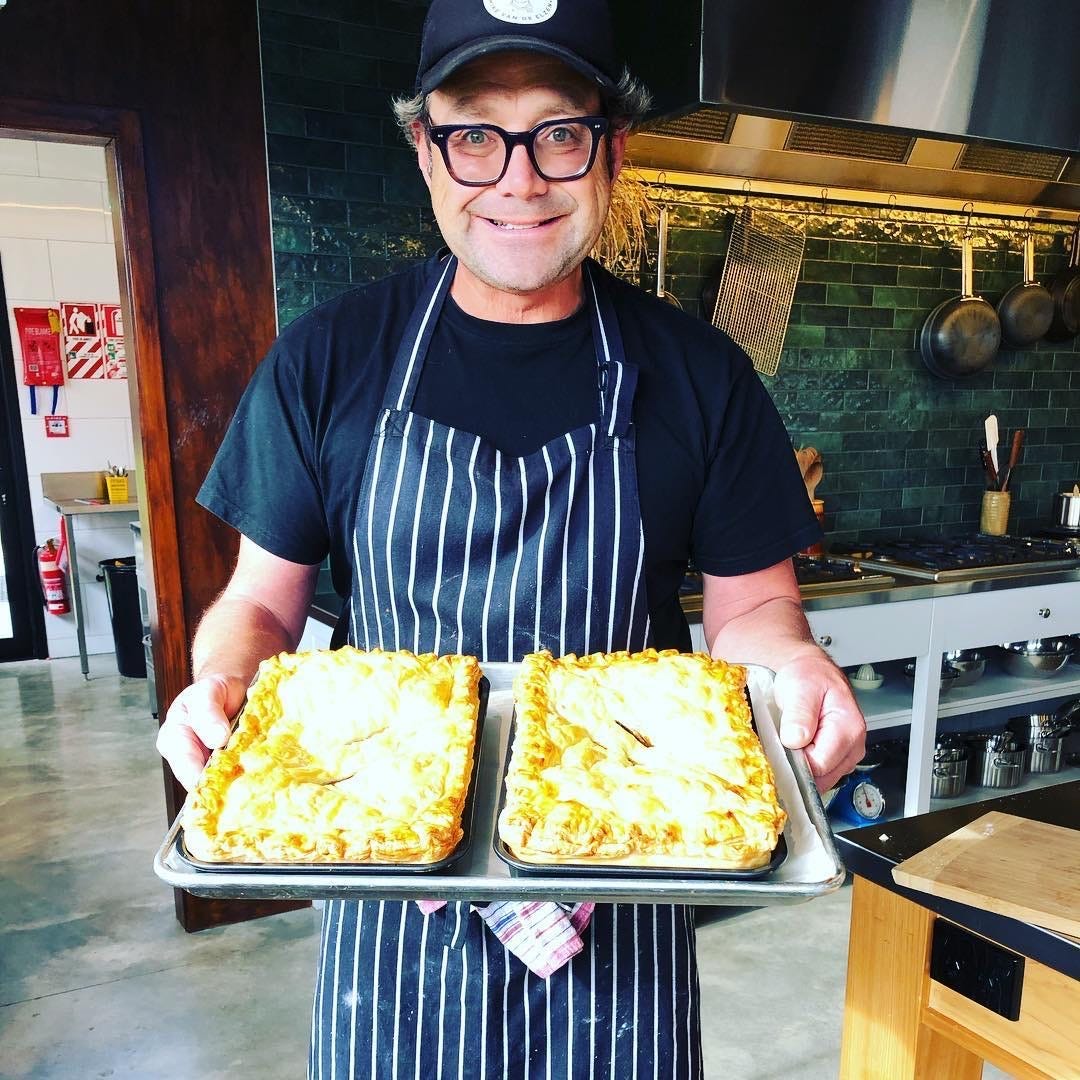 The cooking school is absolutely gorgeous!
Thanks! The idea first came about when B and I were working in 2001in Ireland, in a small luxury hotel with their own gardens.. I had to write a menu around what came out of the earth that day, and since then it's been a dream of ours and a longing of ours to have the same thing. It's an amazing space, the view from the school down the Muriwai valley is amazing.
It was a bit of a rubbish 2019 for you, health-wise – you were diagnosed with throat cancer, and then had a horrific motorbike accident. How're you doing?
Yeah, there are still issues, mainly with the motorcycle accident. But the cancer scare, we seem to be getting through that. I'm still getting monitored and checked – I actually have a check-up this afternoon – but we're getting through it. But holy moly, it's taken a long time to recover. It's been over a year now and it took a massive toll, to be honest. That's part of the reason I haven't been on TV, I've been out here recovering. But I'm back!
Do you have a personal motto or mantra that guides you or influences you?
For me, it would be, nothing comes easy. Sometimes we all have to work hard for what we want. And, cherish everything around you, and the people that love you.
Would that be something that you've leant on quite a lot in the last year?
I think so. Just love your family – they're very special. Oh, I'm getting emotional now!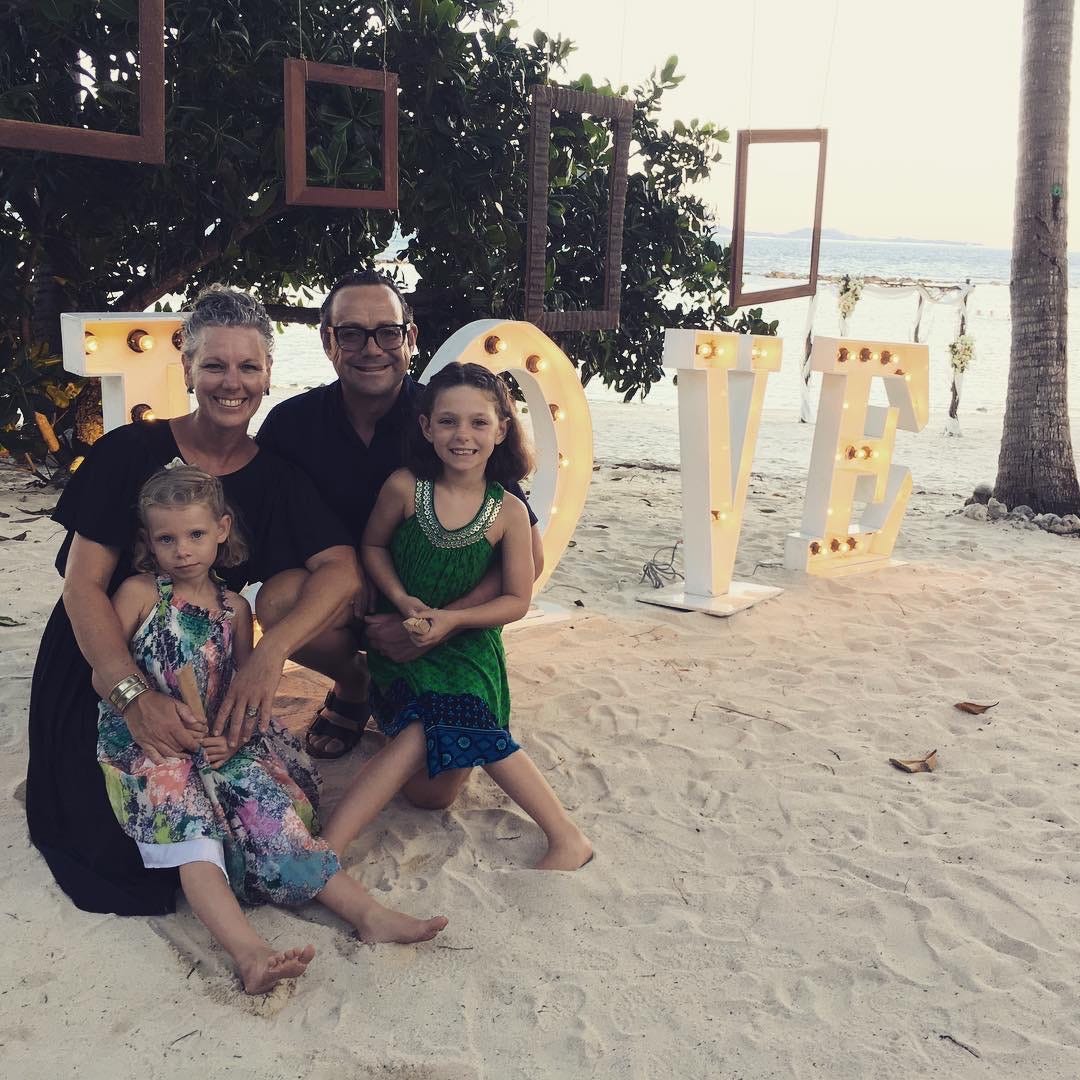 (Mike with his wife, Belinda and two daughters, Hazel and Ivy)
That's okay! How old are Hazel and Ivy now?
They're nine and seven now. Little sausages. They're good girls, and they're loving the life out here, with the farm. We're still struggling getting them off devices 24/7, but at least we can send them out into the paddock.
Would they be the thing you're the most proud of, then?
Definitely. Absolutely. We went through a massive struggle to have them, we went through a lot of rounds of IVF. Being Hazel and Ivy's dad, our family – that's what I'm most proud of. Family is everything. They're the best thing that's ever happened to me, again because of the IVF process. It wasn't guaranteed, so to have that little bundle of joy come into the world was amazing, and then to have another one from the same round, that was incredible.
When are you the happiest?
Doing the classes, the demonstrations, performing. Showing off a little bit, yes. And also, just swimming with the girls.
---
Royal Watch: The Queen's Best Birthday Present Ever
The Queen officially marked her 94th birthday this week, and received what could possibly be the best present ever - the news that her grandsons, Princes William and Harry, have made great strides in repairing their fractured relationship.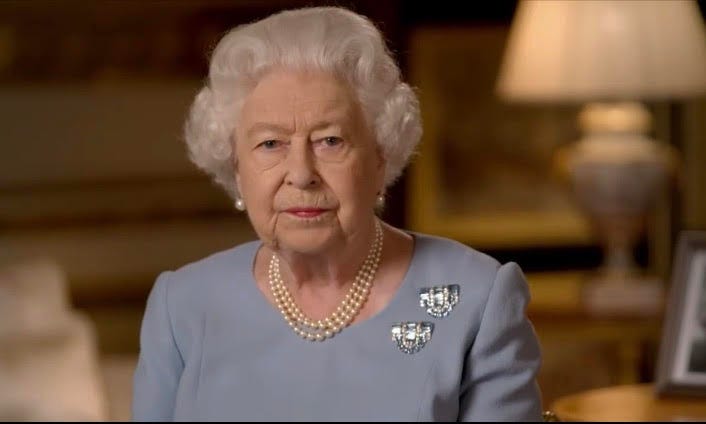 It was a very different birthday for Her Majesty, who watched a very scaled-back version of Trooping the Colour at Windsor Castle to mark the occasion - of course, the monarch's birthday is usually marked by a grand parade, military displays and flyovers over Buckingham Palace, with the royal family gathered on the balcony.
Instead, due to Covid-19 social distancing requirements, a small demonstration by the Welsh guards, who are currently on guard at Windsor, occurred instead.
While it wasn't what she's used to, Her Majesty will instead be cheered by news of William and Harry's strengthening bond, even though the two brothers are currently separated by thousands of miles, with William at Anmer Hall in Norfolk with wife Catherine, Duchess of Cambridge (38) and their three kids, Prince George (6), Princess Charlotte (5) and Prince Louis (2), and Harry staying at a celebrity pal's mansion in Los Angeles with wife Meghan, Duchess of Sussex (38) and son Archie (1).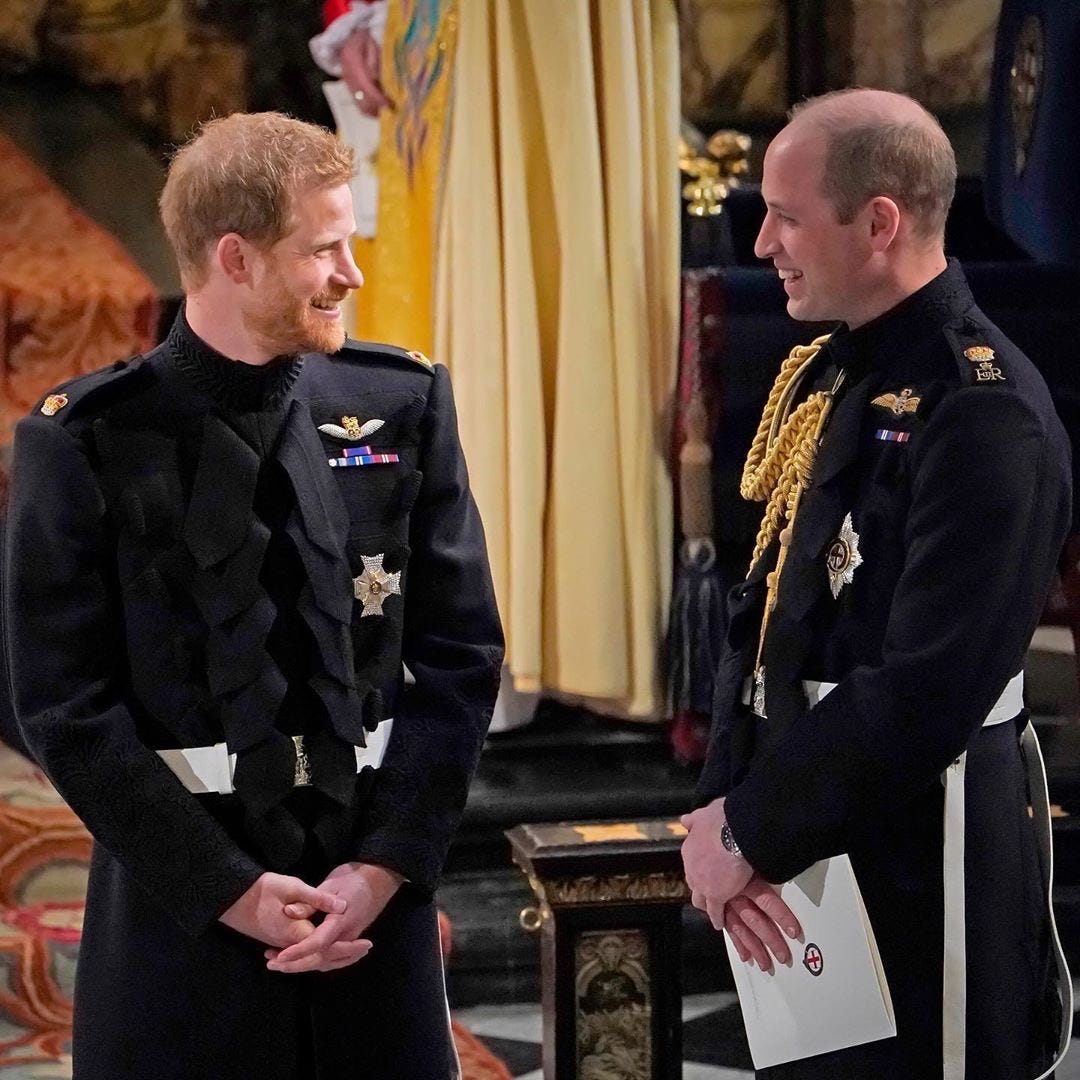 Royal insiders say the pair are talking every day on Zoom, with William retreating to the sitting room after dinner to catch Harry at lunchtime.
"William finds Zoom a good, informal way of keeping in touch, and some would say "tabs" on his younger brother," they tell, adding that William is "anxious to keep the calls low-key and casual".
"[It's] just two brothers having a chat. No one else is involved. It takes the pressure off."
William (37) and Harry's friction, set off after Harry decided to remove himself from royal life, was a source of great sadness for The Queen, with the news the pair are now rebuilding their once-close bond very much welcomed.
Pals close to Harry (35) say he's been saddened to not be around his family during the Covid-19 outbreak, especially when his father Prince Charles contracted the illness. And with Los Angeles showing no signs of relenting their strict lockdown rules any time soon, it will be a while until he's able to make the trip back to the United Kingdom.
Meanwhile, as restrictions ease slightly in the UK, William made his first face-to-face meeting since the outbreak this week, visiting an ambulance station and thanking staff for their service. In true William style however, he kept the visit light.
"I look forward to messages when we can drink more and go out to the local pub and have a pint," he joked.
"I'm also very worried about the nation's waistline, with all the chocolate and cakes… I've done a lot of baking at home. Chocolate goes down very well."
---
A Touch of Hollywood! David Hartnell's Celebrity Trivia!
David Hartnell MNZM is a man who really needs no introduction! Many moons ago he became NZ's first full-time gossip columnists, thanks to his many personal connections with the greatest stars of the silver screen. At 75 he is still the man to ask if you're after a bit of Hollywood gossip. With any luck he'll tell you, "I'm not one to gossip, but…"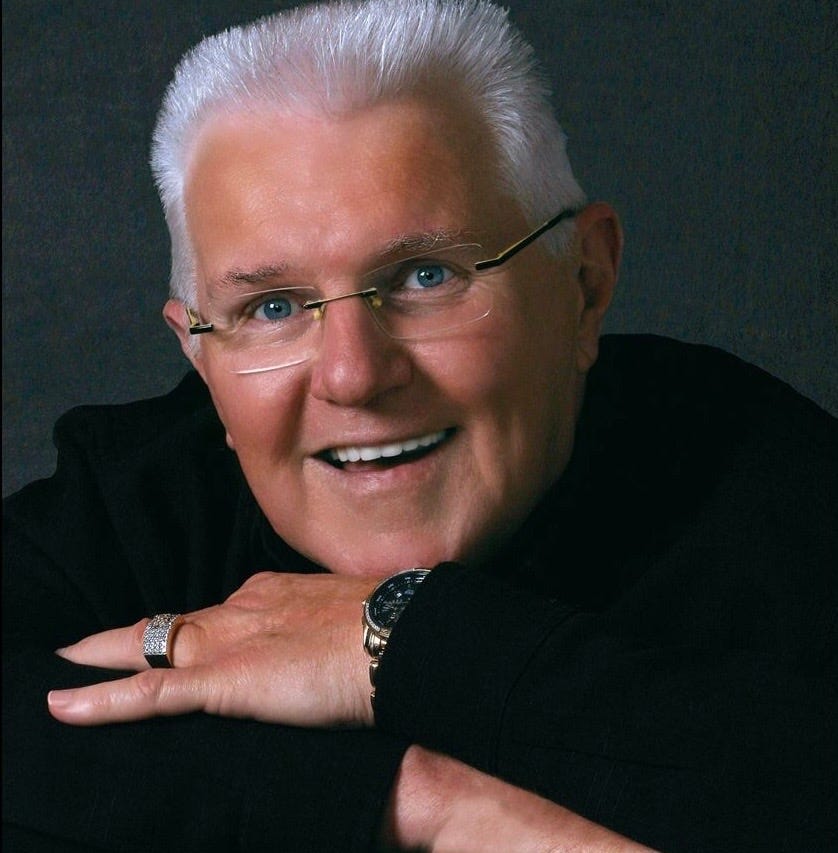 This week's quiz:
1. Can you complete the 2019 movie title, Fisherman's _________ ?
2. In the 2019 movie Mrs. Lowry and Son, what was her son famous for?
3. What is the name of Dolly Parton's Theme Park in the USA?
4. When did the movie Speed 2: Cruise Control come out, was it 1994, 97 or 2001?
5. Can you complete the title of the 2013 movie Francine Locke and Drew Matthews starred in, A Cry For ______ ?
6. In 2019 Brad Pitt and Leonardo Di Caprio starred in a movie, can you name it?
7. Which Muppet received a Kennedy Honour in 2019?
8. What year did Doris Day die and how old was she?
9. What was the title of the 2017 movie about Californian Highway Patrol?
10. Who played Dr. Quinn Medicine Woman in the TV series?
Check your email inbox later this week for the correct answers!
---
Coming to your inbox later this week: 'Nici's Tasty Pork & Fennel Sausage Rolls' & Winter Health Advice from Donna Fleming.
Make sure you keep an eye out later in the week as Nici Wickes shares her easy and truly delicious pork and fennel sausage rolls! Plus, we're joined by Health writer and expert Donna Fleming for some wonderful advice on staying fit and well this winter!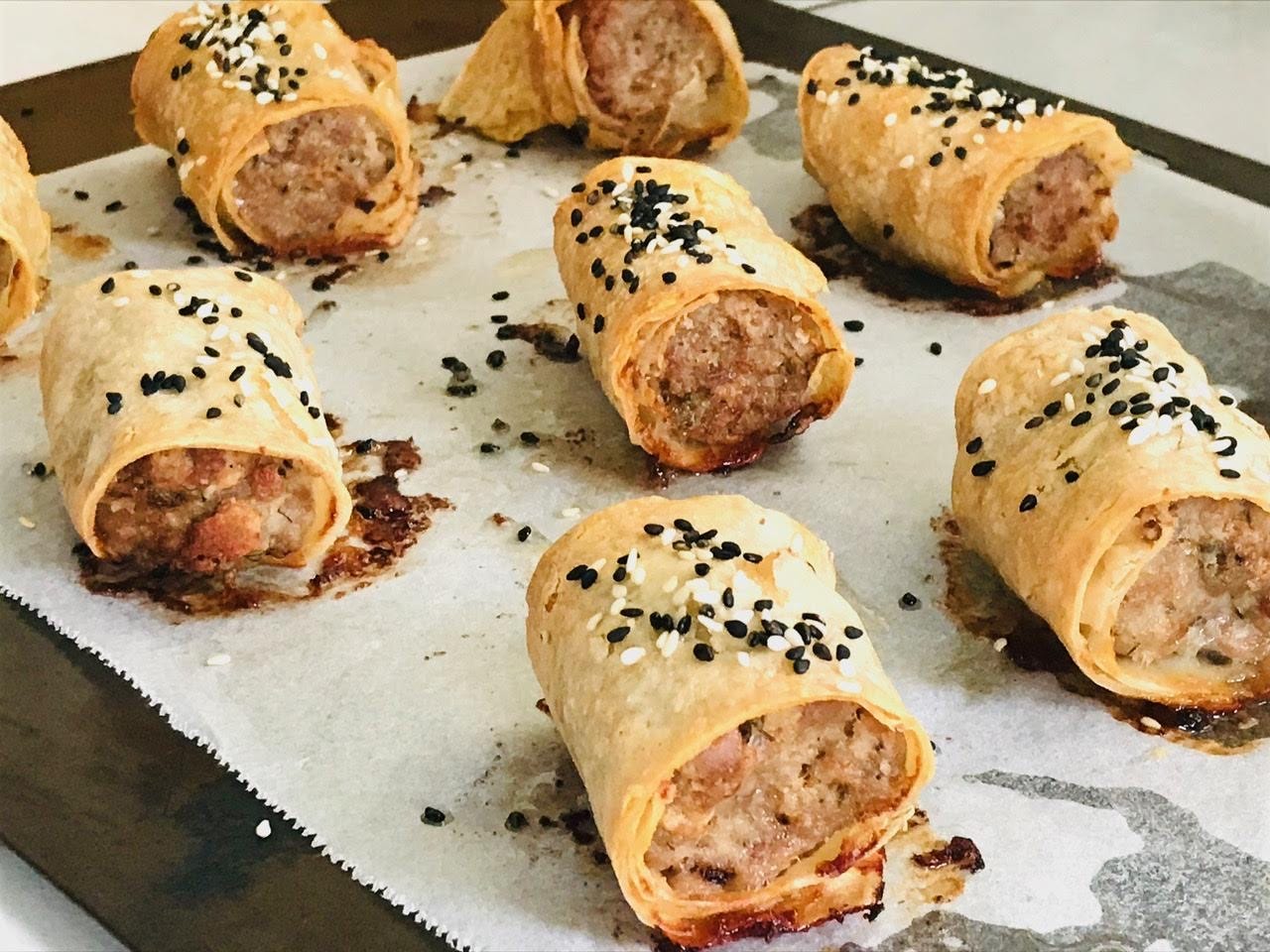 Have a wonderful day! We look forward to seeing you again later this week. And, remember to hit reply to this email and get in touch in the meantime. We'd love to hear from you.
We look forward to talking again soon!
Alice, Kelly & Nici x