Week Fifteen: Nici's Smoked Fish in White Wine Sauce
Nici makes the most out of an unexpected gift from her neighbour! Smoked Fish in White Wine Sauce
When a neighbour slings you a freshly caught and smoked fish, well it's a good day indeed! My nana used to make a version of this dish when we were kids and she'd serve it on buttery toast and it was always, and still is, pure comfort food.
Serves 2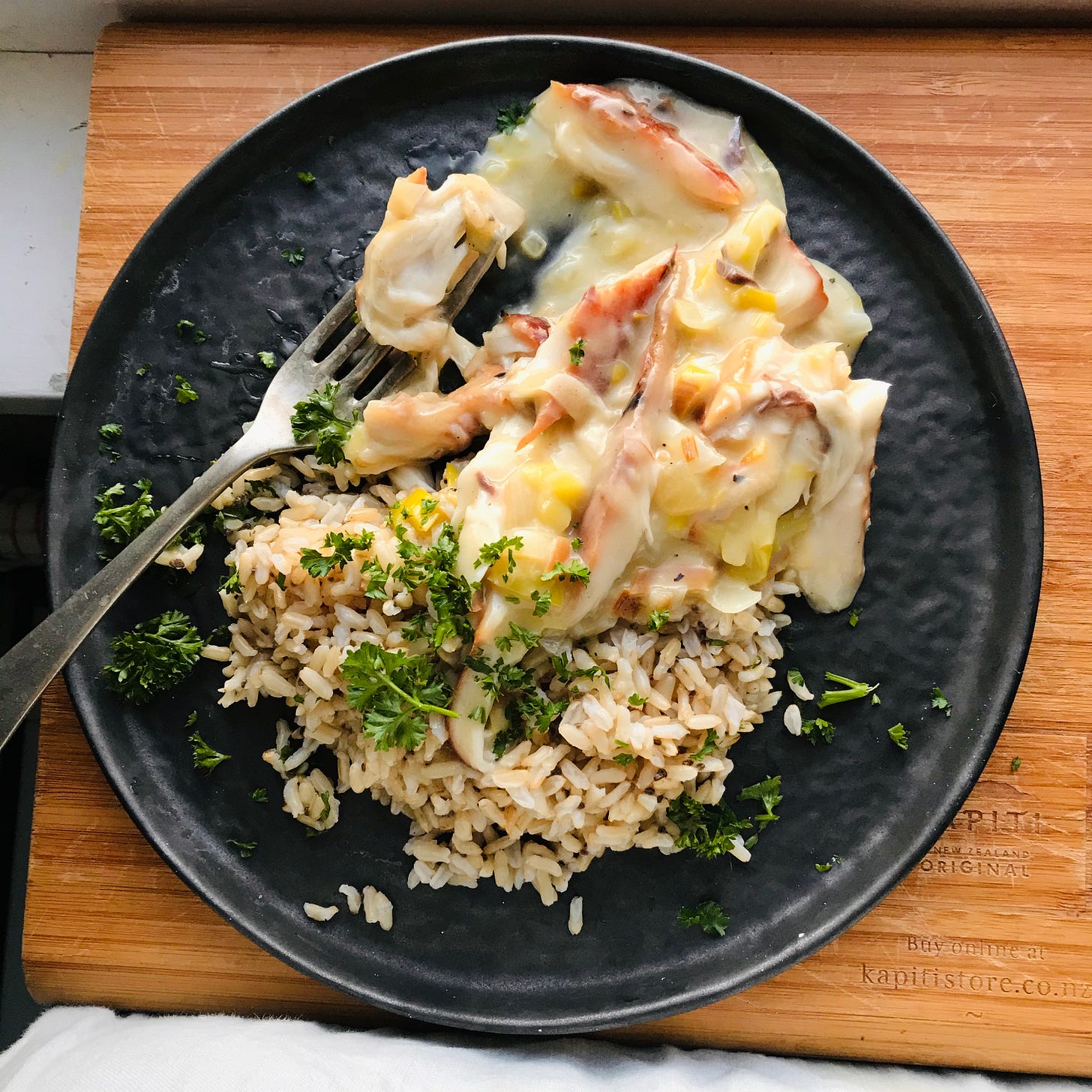 INGREDIENTS
2 tbsp butter

1 leek, sliced

2 tbsp plain flour

¼ tsp white pepper

¼ cup white wine

1 cup vege stock + more if needed

Splash of cream

300-400g smoked fish

Squeeze of lemon juice

Handful of parsley, chopped
METHOD
Melt butter in a saucepan and gently saute the chopped leek until soft. Add flour and stir to form a paste and cook for 30 seconds. Pour in wine and simmer for 1 minute. Stir in stock and simmer, stirring, until thickened – about 5 minutes. Add a splash of cream and season with pepper, remembering that smoked fish can be salty so you probably won't need to add salt. Flake in fish and heat through, without stirring.

Squeeze in lemon juice and add parsley to serve on toast or with rice.
Nici's note: If you don't have access to fresh smoked fish, you can always use tinned and it's still great!
---
Missed Wednesday's edition? Click here to check it out online now!
Wednesday's Answers: This Week In History Quiz
Gilligan's Island. 2. 80. 3. Alfred Hitchcock. 4. Lorraine Cohen. 5. Her bodyguard Trevor Rees-Jones (her driver Henri Paul and boyfriend Dodi Fayed were both killed in the crash). 6. 39th. 7. Zero – they are still married. 8. 74. 9. Salma Hayek. 10. Janet Frame.

---
That's it from us this week! We hope you have a lovely rest of the week, enjoy your weekend, and we look forward to having your company again next week. In the meantime, do send us an email with your thoughts - simply reply to this email, or, if you're reading online, leave a comment below.
Talk soon!
Alice, Kelly & Nici x