Week Fifteen: Prince Harry Makes A Rare Public Appearance to Remember Diana, Leigh Bramwell Shows You How to Showcase Your Favourite Colours in Your Garden, Plus, Today in the History Books!
Prince Harry and Meghan Markle took a trip to a local preschool to pay tribute to the late Princess Diana on the 23rd anniversary of her death... Royal Watch: Prince Harry & Meghan's Touching Tribute to Princess Diana
Prince Harry and Meghan Markle made a rare public appearance this week, paying a special visit to a Los Angeles preschool on Monday – the 23rd anniversary of the death of Princess Diana.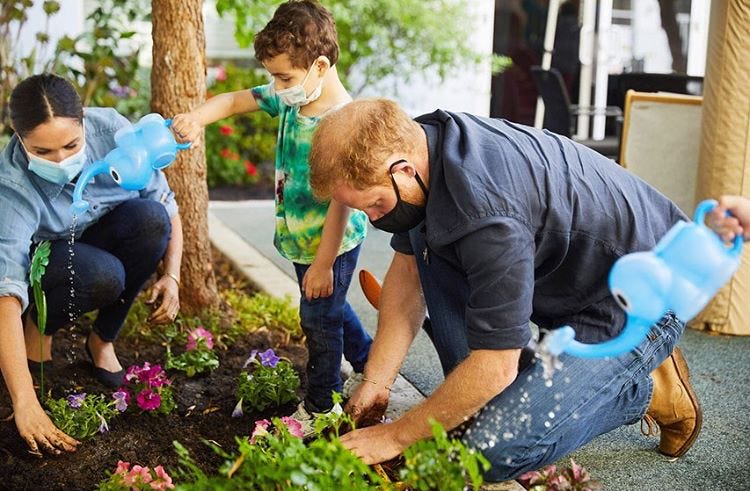 (PHOTO: ASSISTANCE LEAGUE OF LOS ANGELES/MATT SAYLES)
The pair, who dressed casually in jeans, helped to plant flowers and vegetables, including California wildflowers, tomatoes and sweet peas. But Prince Harry also brought along his own contribution – forget-me-not seeds, which were his mother's favourite.
The Assistance League of Los Angeles say the couple surprised the children at their Preschool Learning Centre who were delighted when they discovered who their surprise guests were.
"In addition to helping the children replant the Preschool Learning Center's garden, they spent time with them, sharing their appreciation for nature and helping to instill the importance of healthy eating," a spokesperson said. "We truly appreciate their time and care for our students."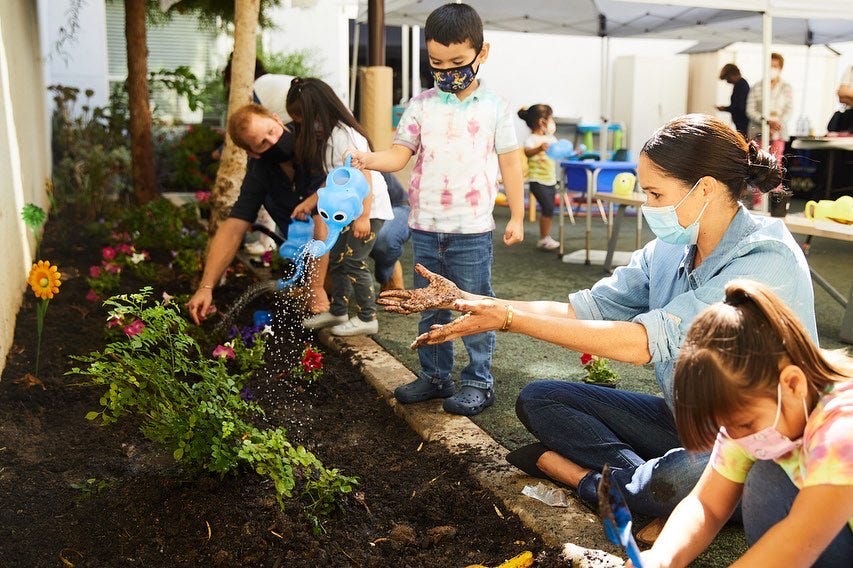 It's certainly not the first time Harry has honoured his mother's memory through her favourite flower. His charity Sentebale is named after the flower and the bouquet Meghan carried on their wedding day included forget-me-nots. Shortly after their son Archie was born, they posted a photo of his feet in front of the flower in bloom.
Meghan, Harry and little one-year old Archie recently moved to a new permanent home in the Montecito community of Santa Barbara. Prior to the move they'd been living at Tyler Perry's Los Angeles estate, after a short stay in Canada.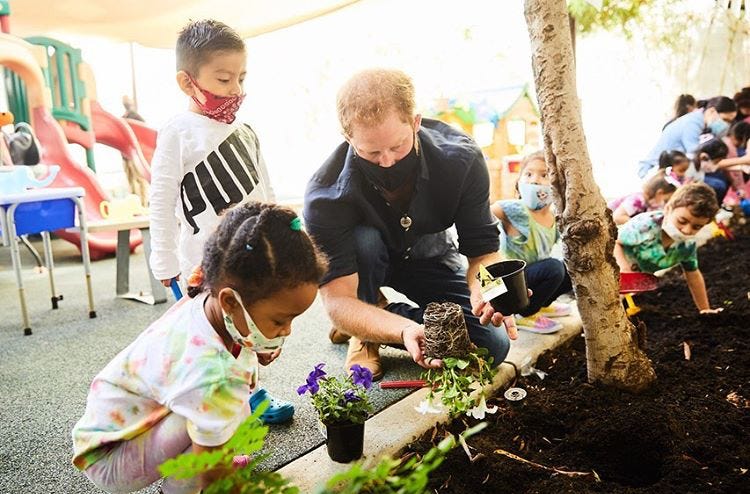 Friends of the couple told People magazine, "They were craving a smaller community and a slower pace — Montecito is very mellow, a charming little town and the Santa Barbara [area] offers an ideal lifestyle that they're looking forward to."
On Saturday Prince Harry took part in a special video chat for the Rugby Football League's 125th birthday, where he said that he and Archie had been spending a lot of time outdoors at their new home, and he hopes to pass his love of rugby down to his son.
"What I need is a few mini rugby balls that I can then get Archie involved with the game because at the moment it's impossible to find any," said Harry. "But I've got a little space outside, which I'm fortunate enough to have so I need to get him playing some Rugby League."
Harry took great delight in speaking about his young son and is clearly relishing in fatherhood.
"Our little man is our number one priority, but our work after that is the second priority and we're just trying to do everything we can to do our part to make the world a better place."
---
In the Garden: Inject Your Favourite Colours into View
Leigh Bramwell is a gardening expert - she's spent "forever" as a journalist (at ODT, NZ Herald, her own glossy garden design mag Alfresco and as the Gardening Editor at New Zealand Woman's Weekly), in public relations, TV, book author… she's done it all! Who better to get some advice from!?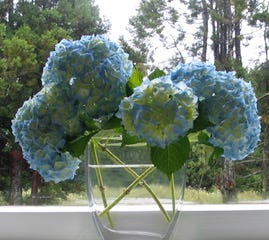 Q: Can you make a whole garden to showcase your favourite colours?
A: Blue and green are my favourite colours, especially together, which explains why I have a blue streak in my hair and lots of green clothes in my wardrobe. (Yes, at one point I did try a green streak in my hair but unfortunately it looked like seaweed.)
So I love the fact that nature has supplied me with lots of blue flowering plants. The Partner and I have ear-marked a dim, damp grassy area at the bottom of the garden which is going to become the blue/green garden.
I'm going to start with forget-me-nots, partly because they like semi-shade. It's as easy as scattering the seeds where you want them and covering them with seed-raising mix. Tamp them down a bit, and keep them watered.
The South African native plumbago also fulfils the green/blue colour demand, and given the right conditions should produce heaps of light blue flowers throughout autumn. It's a good climber.
And hydrangeas are perfect if you like to mix blue and green. The name comes from the Greek 'hydor' which means water and 'aggos' which means jar, which to my way of thinking is an instruction to grow hydrangeas, pick them and stick them in a jar of water.
Hear more from Leigh by clicking here
---
Test Yourself! Quiz: This Week In History…
On September 2 1935 actor Bob Denver passed away, aged 70. The American star was best known for playing the lead role in a TV sitcom that ran from 1964 – 1967. The title of the show included his character's name. What was that show?

American actress Raquel Welch celebrates her birthday on September 5 – which milestone is she celebrating, 70, 80 or 90?

On September 1 1987 a New Zealand woman was sentenced to death by a Malaysia judge for heroin trafficking. On appeal, her sentence was commuted to a life sentence – her son, Aaron was also arrested and sentenced to life. In 1996 the pair returned to NZ after more than 11 years in prison, during which time she had fought breast cancer. What was her name?

Rear Window was released on September 1 1954, starring James Stewart and Grace Kelly. Who was the famous director behind it?

Diana, Princess of Wales, tragically died in a car crash in Paris on August 31 1997. Who was the sole survivor of the crash?

Musician and movie star Beyonce celebrates her birthday on September 4. What birthday is she celebrating – her 35th, 39th or 42nd?

Actor Kevin Bacon married actress Kyra Sedgwick on September 4 1988. How many times has he been married since?

On September 5 2019 Erramatti Mangamma became the world's oldest living mother after giving birth to twins in Hyderabad, India. How old was she: 54, 64 or 74?

Born on September 2 1966 in Veracruz, Mexico this well-known actress, director and producer was nominated for an Oscar in 2002 for her role in Frida. She is married to French billionaire Francois-Henri Pinault. Who is she?

On September 5 An Angel at My Table screened at Venice Film Festival. It would go on to be released in 35 countries, winning many awards, including a Grand Jury prize in Venice. The film was based off the autobiographies of which NZ author?
Keep an eye on the next newsletter for the answers!
---
Coming to your inbox this week: 'Nici's Smoked Fish In White Wine Sauce'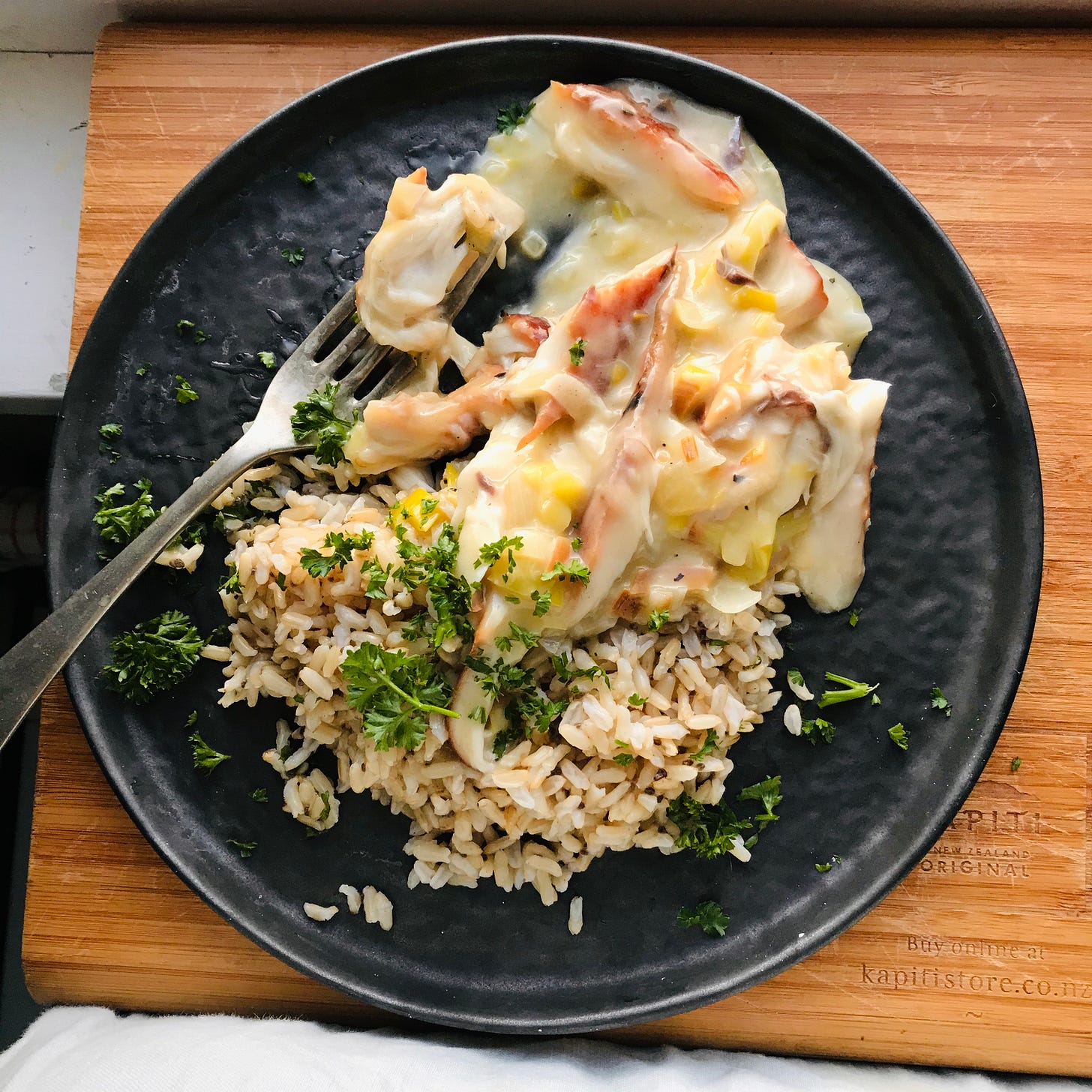 You're not going to want to miss this one! Stay tuned for our next newsletter this week where Nici shares this truly delightful recipe!
Until then, stay safe, keep well, and we look forward to talking again soon!
Talk soon,
Alice, Kelly & Nici x