Week Eighteen: Nici's Easy Homemade Teriyaki Beef!
Stuck for what to make for dinner tonight? Nici has got you covered! Easy Homemade Teriyaki Beef
Nici Wickes
Next time you're think of having a steak for dinner give this a try. It's a super tasty and easy way to turn a standard steak into a wondrous Japanese meal.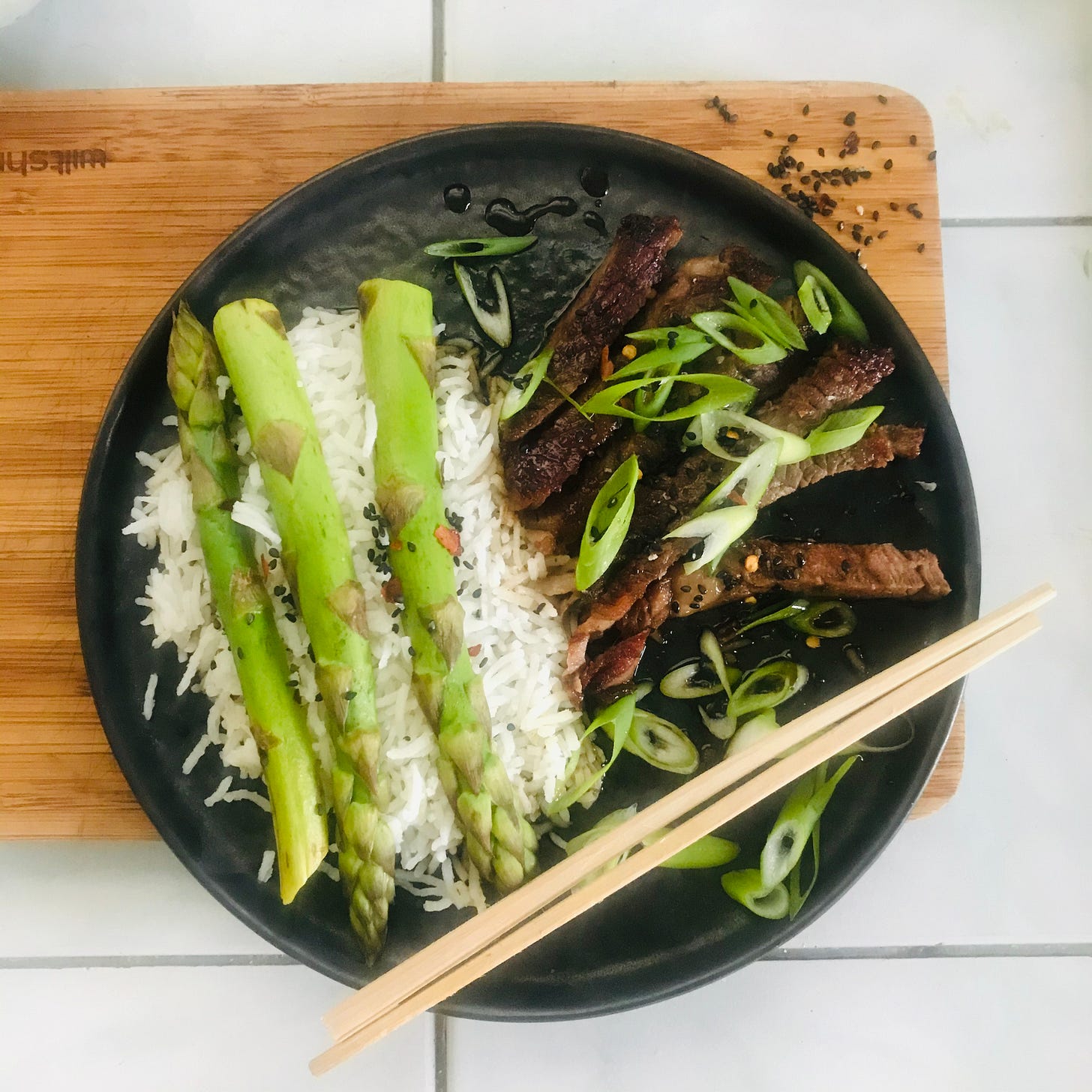 SERVES 2
Teriyaki sauce

1/3 cup light soy sauce

Scant ¼ cup mirin

3 tbsp sake or rice wine

1½ tsp caster sugar
2 scotch fillets, room temperature

1 tsp cooking oil

2 cups cooked rice to serve

1 spring onion to serve, sliced thinly

1 tbsp sesame seeds, black or white

½ tsp chilli flakes

Sprinkle of salt

1. Stir together soy sauce, mirin, sake and sugar until sugar is dissolved.

2. Brush the steaks lightly with oil then whack them into a hot pan. Reduce heat to medium-hot and cook until some blood appears on the upper side. Flip.

3. Pour the sauce over the steak and let simmer, spooning it over the steak to coat for one minute.

4. Remove steak, rest for 5 minutes before slicing. During this time keep simmering sauce until thickened.

5. Serve steak draped in the sauce alongside rice (and I've steamed some asparagus to go with mine too) and sprinkled with spring onions and sesame/chilli. Season with salt and eat up!
Nici's note: Replace beef with chicken thigh or breast – just cook it through before adding the teriyaki sauce to the pan.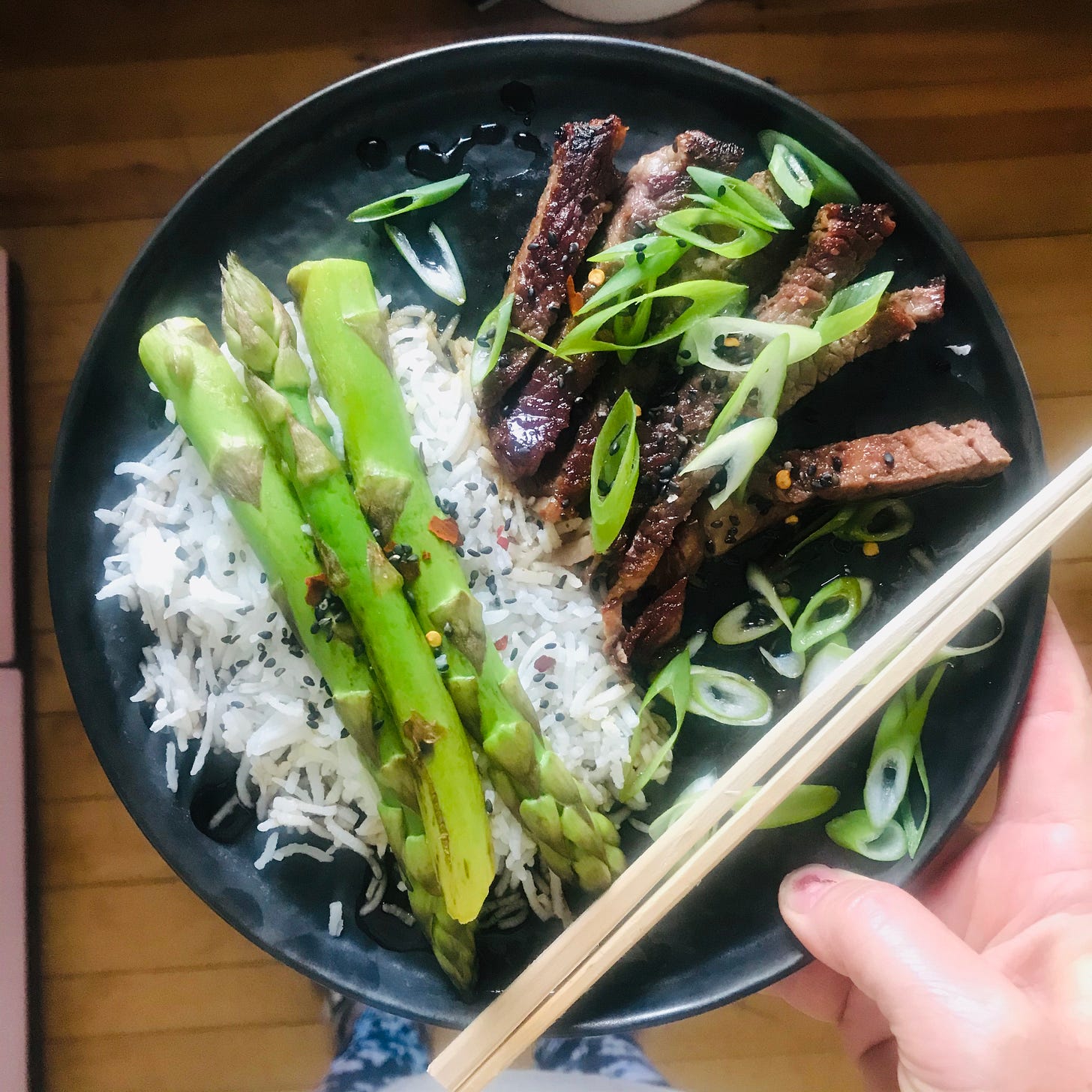 ---
Missed Wednesday's edition? Click here to check it out online now!
Brain Test! Gogen by Andrew Reid Solution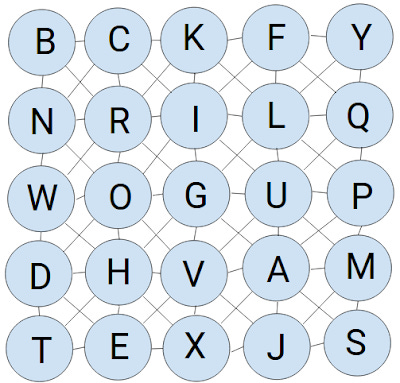 ---
Quiz: This Week In History Answers…
1. Lorde. 2. 70. 3. 13 days. 4. Stephen King. 5. 1878. 6. Four times – Francois Allaux, Richard Taubman, Billy Joel and Peter Cook (whom she divorced in 2008). 7. Olivia Newton-John. 8. Australia II. 9. Brad Falchuk. 10. Buddy Holly and the Crickets.
---
That's it from us this week! We hope you have a lovely rest of the week, enjoy your weekend, and we look forward to having your company again next week. In the meantime, do send us an email with your thoughts - simply reply to this email, or, if you're reading online, leave a comment below.
Talk soon!
Alice, Kelly & Nici x