Week Twenty-Two: A Look into the New Life of Prince Harry & Meghan, plus, Sudoku and Legends of the Silver Screen...
A new portrait of the pair - their first since leaving the royal family - has been released. Plus, this morning, Prince Harry & Meghan took part in a very interesting interview session... Royal Watch: Prince Harry & Meghan Markle Release a Beautiful New Portrait, But Deliver Some Bad News for Christmas…
Royal fans were delivered a treat on the weekend when Prince Harry and Meghan Markle released a new official portrait - their first since leaving the royal family.
The new picture was released to coincide with the news that the couple would be hosting a special edition of TIME100 Talks on the 'State of Our Shared Digital Experience'. The talk took place earlier today (NZ time).
In a joint appearance, the duo discussed how the internet is affecting critical issues such as racial justice, gender equity, climate change and mental health. The talk, which they attended via video conference from their home, kicked off with a question from TIME CEO Edward Felsenthal, who asked how they have been coping during the pandemic.
Meghan replied that "everyone is grappling with a different version of the same thing. We're just trying to embrace all of the quality time we get with our son right now and not miss a single moment of his growth and development."
Harry also added that "the media's role is absolutely vital in everything that's going on" and there is "now more than ever, overwhelming desire" for everybody to find truth.
Harry also talked briefly about the upcoming American election, saying, "This election, I'm not going to be able to vote here in the US. But many of you may not know that I haven't been able to vote in the UK my entire life. As we approach this November it's vital that we reject hate speech, misinformation and online negativity."
But let's get back to that photo that has now been pored over by royal experts and eagle-eyed fans.
The black and white photograph was taken by Matt Sayles at their new home in Montecito, California, and pictures Megan resting her arm on Harry's lap - a very similar pose to their engagement photo back in 2017.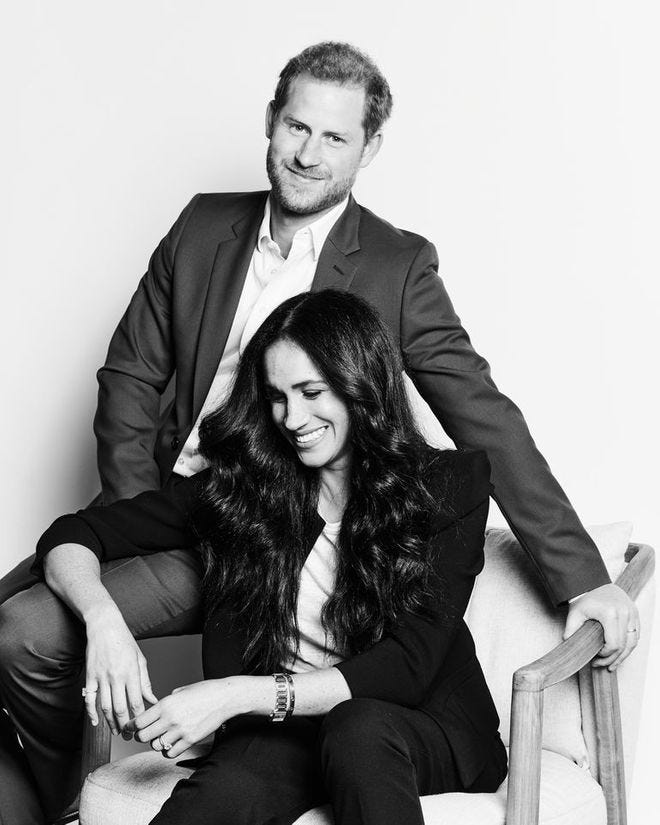 Meghan wore an Alexander McQueen suit, which just happens to be the very same one she wore during her first evening engagement as a Royal. But it's her choice of jewellery that has really got people talking. Alongside her favourite Cartier "Love" Bracelet, Meghan appears to be wearing a Cartier Tank Française watch which belonged to Princess Diana. It was gifted to Diana by her father on her 21st birthday and at the time was valued at £17,800.
Meghan actually owns a similar style of the Tank watch in a two-tone version. She told Hello Magazine that she splurged on the watch as a gift to herself when her TV show Suits was renewed for a third season, saying "at the time, it felt like such a milestone!"
"I had it engraved on the back, 'To M.M. From M.M.' and I plan to give it to my daughter one day. That's what makes pieces special, the connection you have to them."
Meghan is also wearing, of course, her engagement ring (By Trilogy - valued at £271,000) and another ring on her pinky finger. Some royal watchers have speculated that it is Princess Diana's iconic aquamarine ring, which Meghan wore to her wedding reception in 2018, but due to the photo being in black and white, it's impossible to tell if it is the brilliant blue ring, or simply a new piece of jewellery.
In other Harry and Meghan news, it has been reported by Vanity Fair that for a second year, the royal pair will be staying in California for Christmas. The magazine reports that the family will celebrate Christmas at home in Montecito, before flying out to the UK days later, where they will isolate for two weeks, before the start of Meghan's High Court Case against the Mail on Sunday. Sources say the pair will be able to isolate in Frogmore Cottage before the case, which requires Meghan to be at the court in person, beginning January 11.
The news is likely to be disappointing for the Queen, who has not seen the family, including her great-grandson Archie, in a year.
---
Brain Test! Solve this Sudoku by Andrew Reid!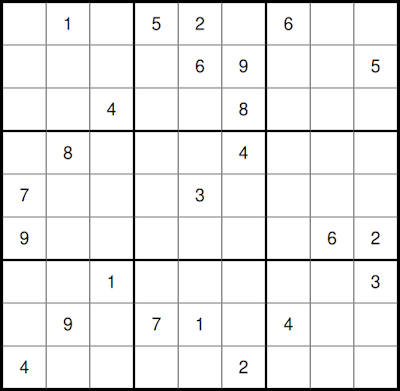 Be watching for the solution, later this week!
---
QUIZ: Test your Celebrity Know-How on Actors of the Silver Screen…
Which actor was born Alphonso D'Abruzzo?

This week it was revealed that which celebrity was originally in talks to play the lead role in The Notebook – a role that eventually went to Ryan Gosling?

For his part in which movie did Brad Pitt not win an Oscar: Thelma & Louise, 12 Years a Slave or Once Upon a Time… in Hollywood?

Who is older – Ben Affleck or Matt Damon?

What two films have Richard Gere and Julia Roberts starred in together?

What was Tom Cruise in the process of becoming before he switched paths to acting: a priest, a real-estate agent or a chemical engineer?

Which actor was born Maurice Micklewhite?

How old was Leonardo DiCaprio when he filmed Titanic: 21, 25 or 29?

Who is Tom Hanks married to and how many films have they appeared in together: 1, 3 or 6?

For which film did Russell Crowe win a Best Actor Oscar: The Insider (2000), Gladiator (2001) or A Beautiful Mind (2002)?

---
Coming to your inbox this week: Nici's Charred Kale, Apple, Orange & Almond Salad!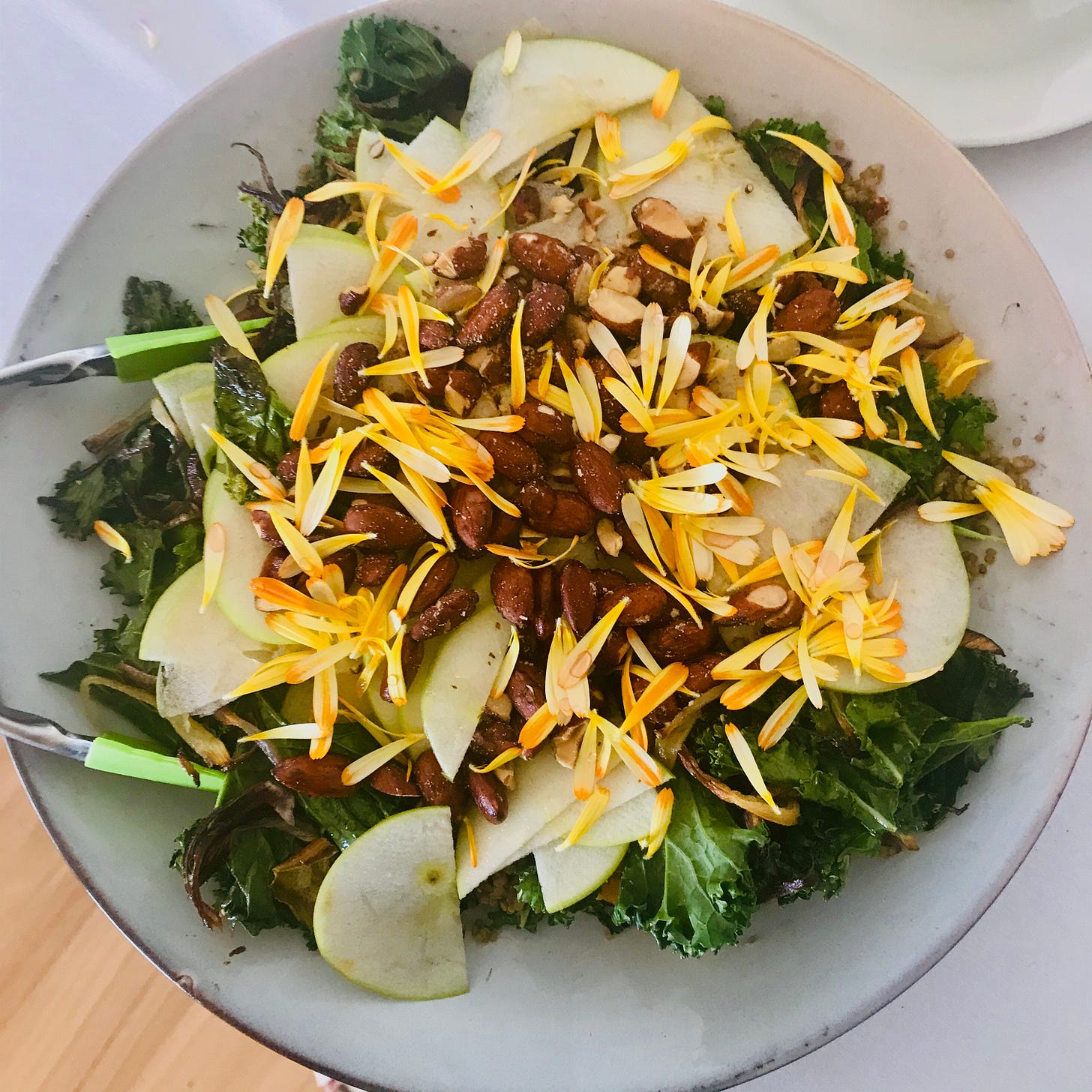 Make sure you keep an eye out for our next newsletter this week, where Nici shows you how to whip up this salad, which is sure to put a Spring in your step!
Until then, we hope you have a wonderful week - make sure you leave us a comment, or hit reply on this email with your thoughts and suggestions.
Talk soon!

Alice, Kelly & Nici x