Week Seven: Nici's (accidentally) Vegan Carrot Cake, plus, Creating a Focal Point in the Garden
No eggs? No problem! When Nici Wickes had a yearning to make a carrot cake, but discovered she had no eggs - or butter! - she forged ahead and instead made a delicious, accidentally vegan cake! Carrot Cake With A Difference
Nici Wickes
The other day I got the urge to bake one of New Zealand's most loved cakes - the mighty carrot cake! I was momentarily overjoyed thinking of the dense deliciousness of this gorgeous cake with its crown of luscious cream cheese icing. Then I discovered I had no eggs. Hmm. So I fiddled with the my old recipe and made this beautiful cake sans eggs, or butter, so it's accidentally vegan (the cake that is, not the icing!) but incredibly moreish. Try it, you'll love it.
Makes 10-12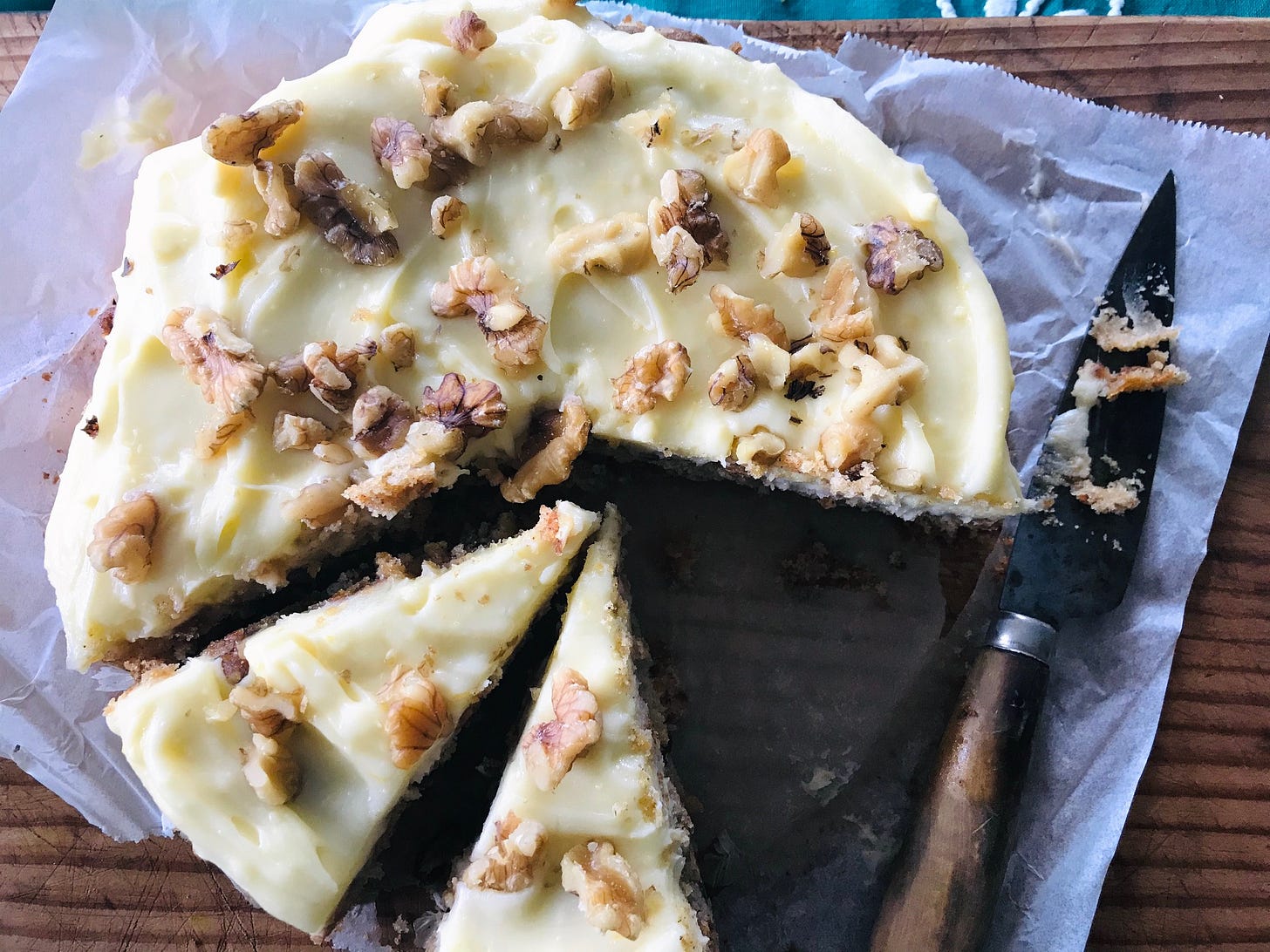 Ingredients:
CAKE
2 cups self-raising flour

¾ cup icing sugar

½ cup raisins

½ cup walnut pieces

2 tsp cinnamon

2 tsp mixed spice

200g grated carrot

200ml oil, I used light olive oil

100ml water
ICING
250g cream cheese

50g soft butter

1 cup icing sugar

1 tsp lemon zest

Extra walnuts for topping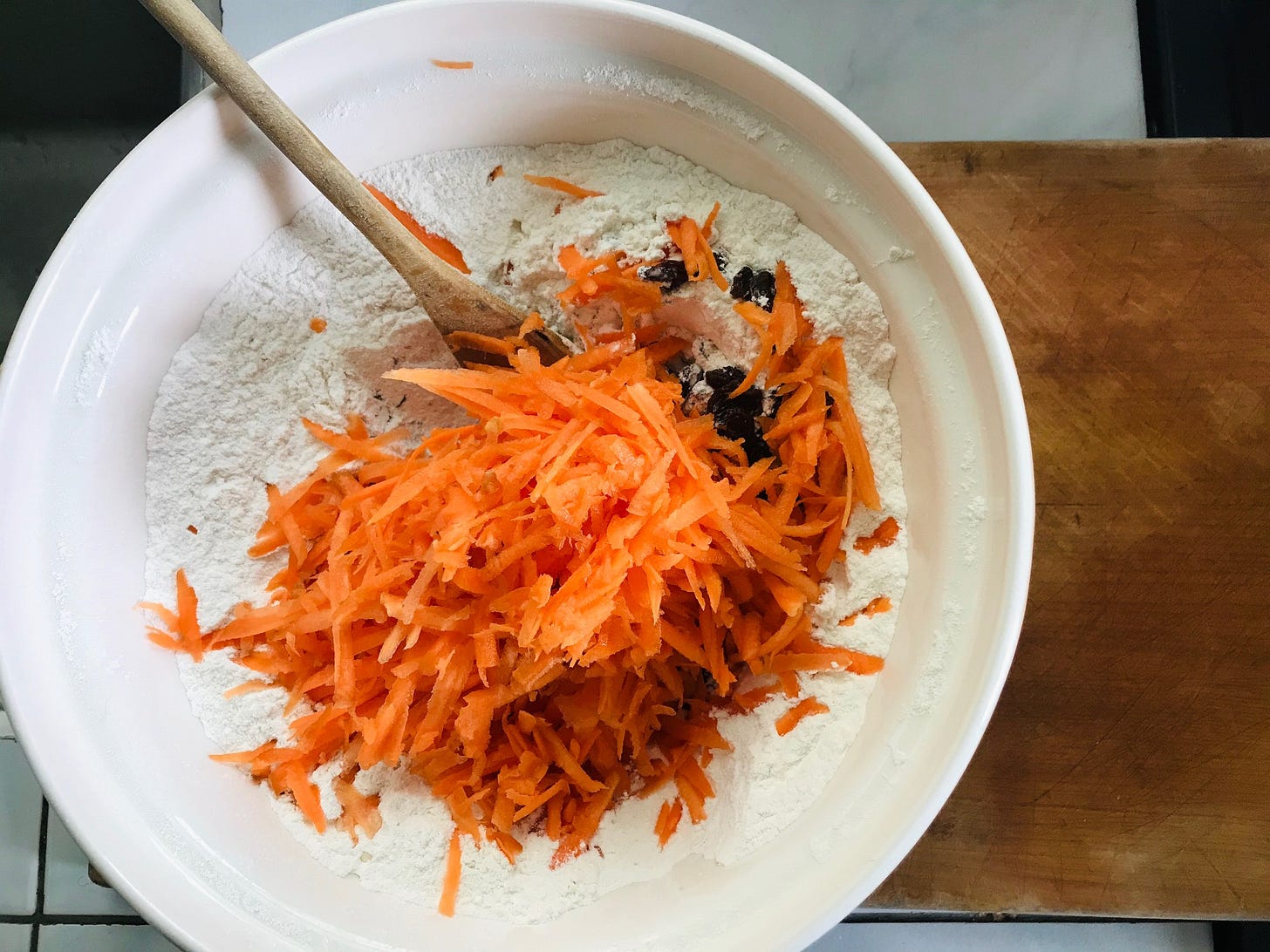 METHOD:
Preheat oven to 180 C fan bake. Grease and line a 22cm springform cake tin.

In a large bowl, combine flour, icing sugar, raisins, spices and grated carrot until mixed. Pour in oil and water and mix until just combined.

Spoon into prepared cake tin and bake for 40 minutes or until a skewer inserted comes out clean. Cool in tin for 10 minutes before turning out and cooling completely.

Beat cream cheese until smooth, then beat in remaining icing ingredients until smooth.

Spoon over cake lavishly and sprinkle with walnuts. Slice and eat!
Note: If you prefer smaller cakes, spoon the cake mixture into 12 lined muffin holes and bake for 15-17 minutes.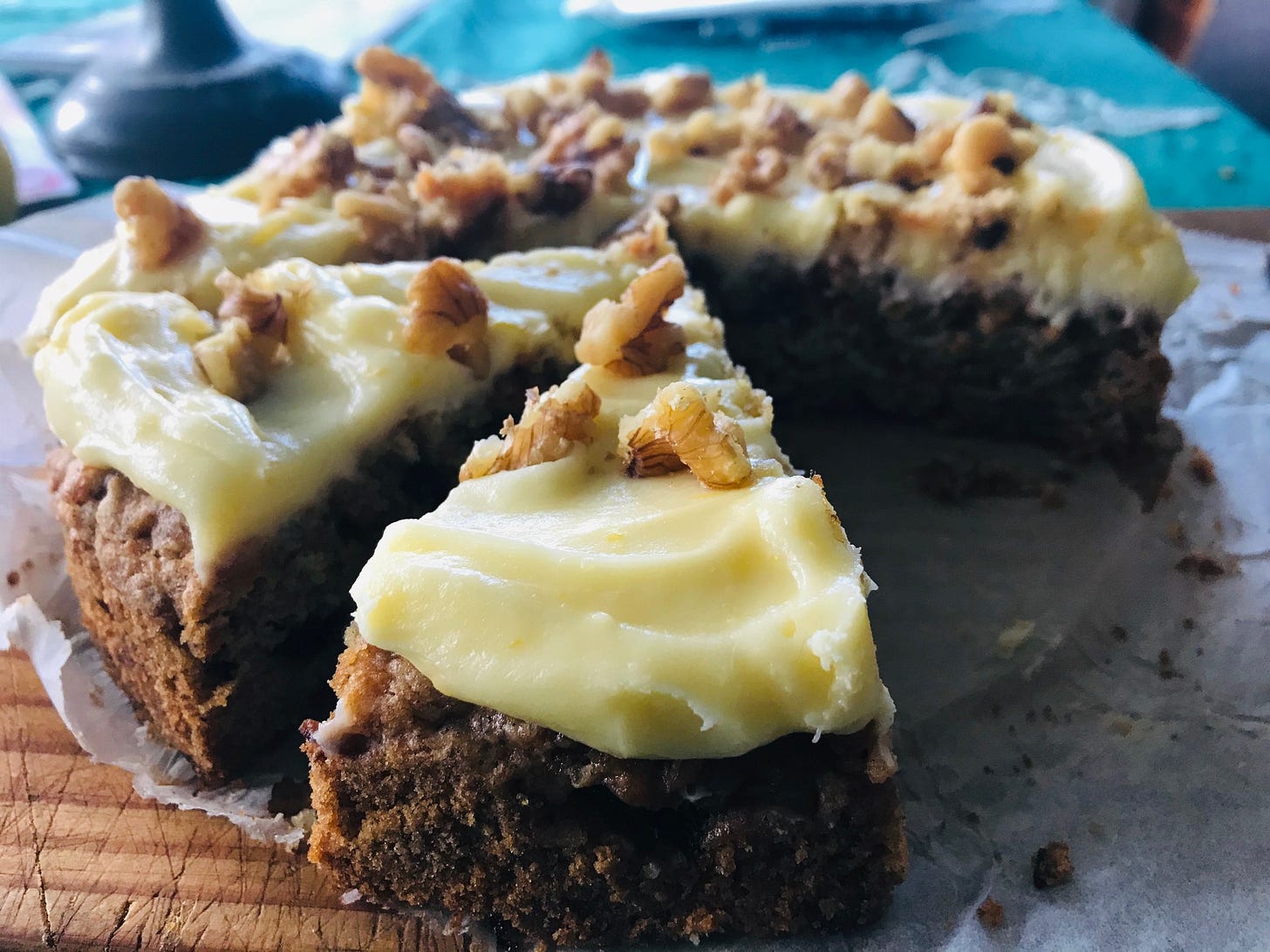 ---
In The Garden: Leigh Bramwell's Tips For Adding a Focal Point!
Leigh Bramwell is a gardening expert - she's spent "forever" as a journalist (at ODT, NZ Herald, her own glossy garden design mag Alfresco and as the Gardening Editor at New Zealand Woman's Weekly), in public relations, TV, book author… she's done it all! Who better to get some advice from!?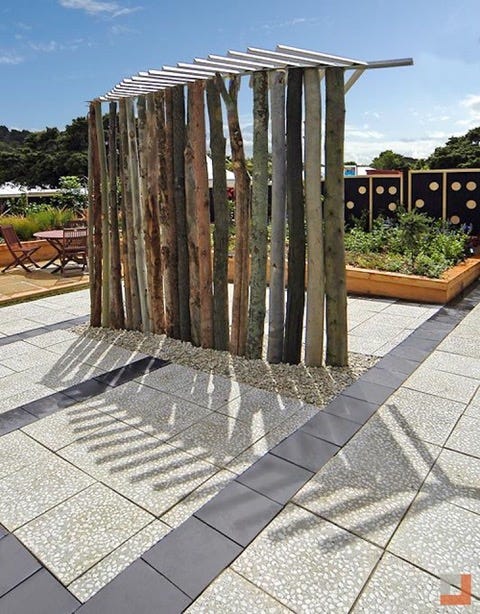 Q: Real artworks for the garden can be expensive, so how do you add a focal point to a space without spending a fortune?
A: I love this random sculpture because it's so interesting. It might be used to provide a screen from the neighbours, to break up a large area into more manageable spaces, to anchor a shade sail, or to provide a scratching post for the cat. (We won't talk about how the dog might use it.)
The components are simple - tree trunks, posts or, if you're like me who only like square things, 100mm x 100mm timber. Call me naïve but it looks pretty easy to make. Get someone to dig a channel or separate holes, concrete your posts into the ground, and add a layer of pebbles or stone chips at the end. You might need a crafty person to make the metal piece for the top. This one looks quite straight but a curve or a right angle would work too, depending on the purpose, and if your posts are shorties, so be it.
Hear more from Leigh by clicking here
---
NEW: Put Your Pet Questions To Our Resident Vet!
Dr Jacqui Snell is a vet with a difference! Jacqui graduated from Massey University in 1988 and has practiced as a Companion Animal Veterinarian for 30 years based in Wellington, England, Hawkes Bay and most recently in Tauranga. For a large part of her career, Jacqui owned her owned a three vet practice in Taradale.

With a deep interest in Holistic Veterinary Medicine, Jacqui has attained a Diploma in Western Veterinary Herbal Medicine through the College of Integrative Veterinary Therapies. You can learn more about Jacqui on her website, here.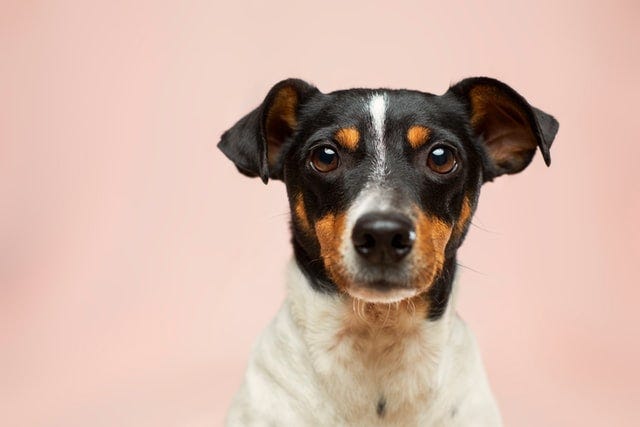 We're very lucky to have Dr Jacqui Snell on hand to talk to us each month about the health of our pets. If you've got a question or a topic you'd love for her to discuss, please reply to this email with your query and we'll do our best to get it answered!
Stay tuned for next week, when Jacqui starts her first column, discussing arthritis in pets.
---
Missed yesterday's edition? Click here to check it out online now!
Tuesday's Answers: This Week In History Quiz
1. Lorraine Downes. 2. Ringo Starr. 3. 1928. 4. Chariots of Fire. 5. Plácido Domingo, José Carreras and Luciano Pavarotti. 6. 1877. 7. Anjelica Huston. 8. 1985. 9. The Spice Girls. 10. Bill Haley & Comets.
---
That's it from us this week! We hope you have a lovely rest of your week - enjoy your weekend, and we look forward to having your company again next week. In the meantime, do send us an email with your thoughts - simply reply to this email, or, if you're reading online, leave a comment below. And if you are reading online, do yourself a favour and start subscribing. Right now it's free! Just hit the button below.
We hope you have a wonderful rest of your week!
Talk soon,
Alice, Kelly & Nici x