Week Eleven: Nici's Dark Chocolate & Plum Brioche Recipe, Plus, Take A Look Back at Today in History!
What better to accompany your cuppa than one of these delicious, warm brioches! Dark Chocolate & Plum Brioche
Nici Wickes
It took me many years to settle on a brioche recipe that was approachable enough to feel like I could whip up a batch of these beautiful soft buns whenever the mood took me. I urge you not to be put off by the fact that the recipe calls for doing a stage the night before – it really just means you'll be eating them sooner the next day!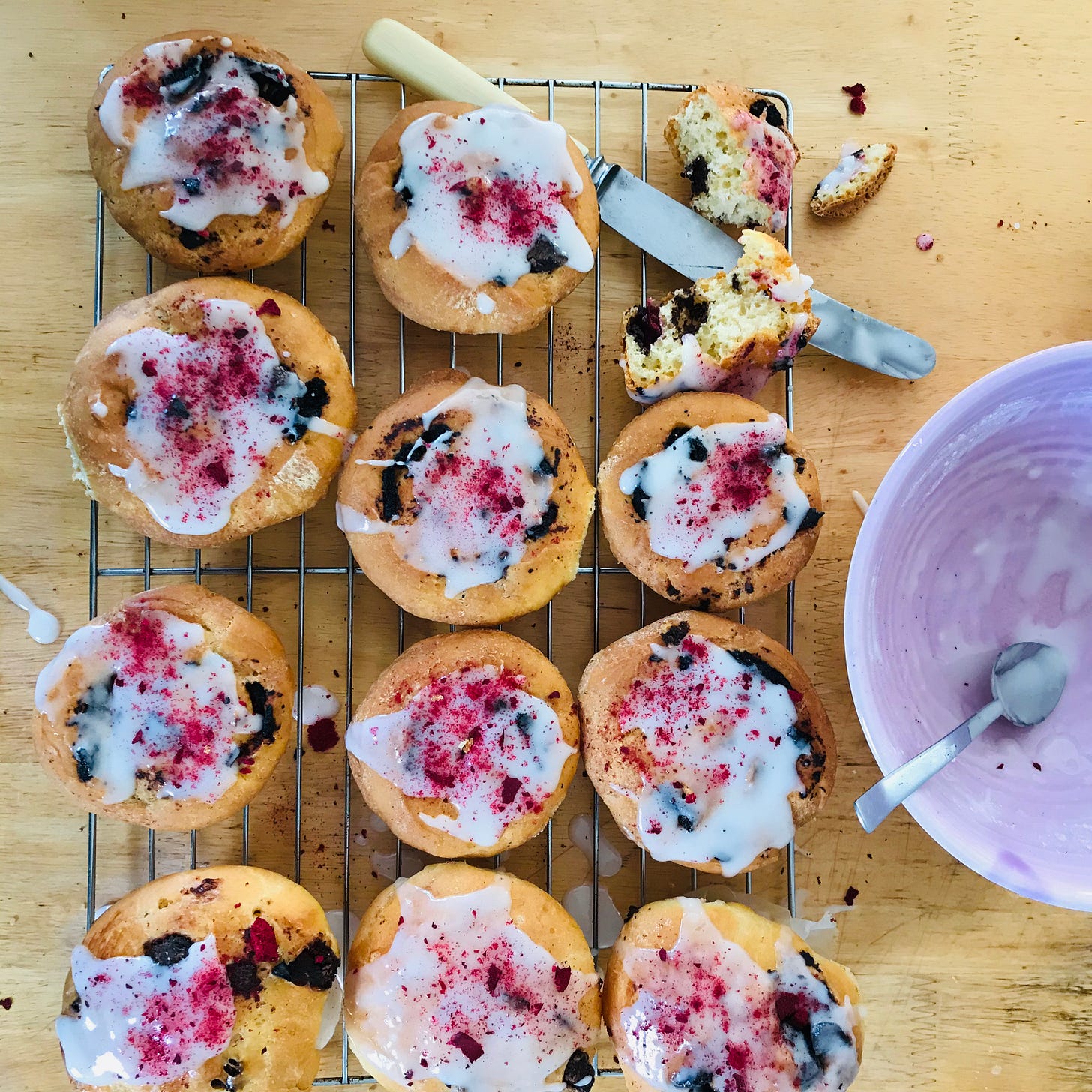 Makes 12
INGREDIENTS
100g butter

2/3 cup milk

1 heaped tsp sugar

1 tsp yeast

2 large eggs

300g plain flour

½ cup canned (drained well), fresh or freeze dried plums

100g dark chocolate, chopped roughly

Egg &/or milk for egg wash
METHOD:
The night before:
Melt butter in a small saucepan then add in milk. Heat until just on the warm side of tepid. Remove from the heat and add sugar and yeast. Cover and leave to froth, about 10-15 minutes.

Lightly beat eggs in a large bowl. Add yeast/milk mixture to the eggs and stir to combine. Add the flour and stir continuously for about 5 minutes with a sturdy spoon. Cover with a plastic bag and place in the fridge overnight.
Next morning;
Grease a 12-hole muffin tin and line holes with squares of baking paper.

Gently tip the dough onto a well-floured bench and press or roll to a 20x25cm rectangle. Sprinkle over chopped plums and chocolate. Roll tightly from the long side. With a sharp knife cut into 12 brioche, placing each cut side up in the muffin tin. Leave to rise in a warm place until puffed up - about 30-45 minutes.

Heat oven to 190 C fan bake. Brush puffed brioche with egg and milk wash and bake for about 16-18 minutes until golden brown and the bottoms are cooked.
---
Test Yourself! Quiz: This Week In History…
New Zealand's first Olympic athletics gold medal was won on August 6 1936 in Berlin. Who was that Olympian? (Bonus point if you can name the event)

On the same day, 66 years later, Valerie Adams won her second Olympic gold medal at the 2012 London Games. However, it wasn't until several weeks later that she received her medal, back home in New Zealand – why?

August 4 is a popular day for famous birthdays! Can you put in order of birth these five stars: Barack Obama, Queen Elizabeth The Queen Mother, Billy-Bob Thornton, Meghan Markle, Louis Armstrong?

The first electric traffic light was installed in at an intersection in Ohio – what was the year, was it 1894, 1904, 1914 or 1924?

On August 5 1966 a song was released that would become a huge hit. Its lyrics began… "In the town where I was born, Lived a man who sailed to sea, And he told us of his life, In the land of… What word came next? And what was that hit song?

One of NZ's most loved entertainers passed away on August 7 1991, suffering heart failure at just 43. How was William Taitoko better known?

On August 4 2015 two big stars announced they were ending their relationship. It was a fiery, off-an-on union – that was quite often one-sided. They met in the early seventies and became engaged in 1979 – whilst he was guest hosting The Tonight Show with Johnny Carson she used the spotlight to announce their engagement, whilst wearing a giant purple feather boa. The pair never made it down the aisle. Who were they?

On August 4 1964 who released the song Hound Dog?

August 7 marks the birth of a Hollywood actress, who will this year celebrate her 45th birthday. This blonde actress was born in South Africa. In 2004 she won a Best Actress Oscar, the same year that Sean Penn won Best Actor – a man who she went on to have a long romantic relationship with in later years. Who is the star?

Which American President announced on August 8 1974 that they would be resigning at 12pm the next day?

---
Coming to your inbox later this week: Catch up with an friendly face for a cuppa! Plus, wondering what fruit might prosper in your garden? Leigh Bramwell has the answer!
Have a wonderful afternoon! We look forward to seeing you again later this week. And, remember to hit reply to this email and get in touch in the meantime. We'd love to hear from you.
We look forward to talking again soon!
Alice, Kelly & Nici x