Week Eighteen: Royal Watch - Kate's Pretty in Pink, Plus, Is Sophie Wessex Coming to the Rescue? PLUS This Week in History AND try our new Gogen Word Puzzle!
There's a void of work that needs to be filled, left behind by Prince Harry and Meghan Markle - but just who is going to fill it? Royal Watch: Pretty in Pink! Plus, is Sophie Wessex Coming to the Rescue?

The Duchess of Cambridge was a ray of sunshine this week as she met with parents in Battersea Park, looking relaxed and casually dressed.
She donned her favourite pair of Marks and Spencer trousers, which cost £29.50 and immediately sold out after she was first spotted wearing them, teamed with a plain white t-shirt and comfortable white trainers.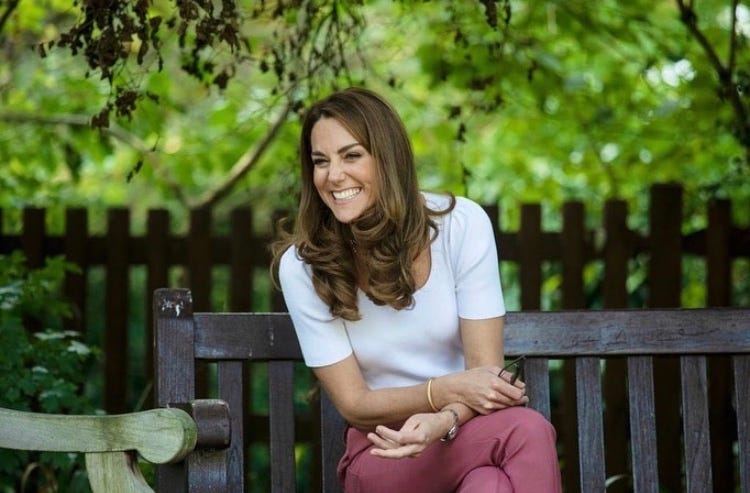 Kate (38) kept socially distanced while she met and chatted with parents who have used the services of several different peer support groups - such as Home-Start, National Childbirth Trust (NCT) and Mush.
Single mother Irma Martus (47) spoke to the Duchess about how she had helped out by volunteering for Home-Start – who help new parents coping with postnatal depression, isolation and bereavement – by doing weekly check-up phone calls. Irma joined up to pay it forward after she used home-Start after her 22-month-old son was diagnosed with Down's syndrome. She said Kate was genuinely interested in what she had been through and what the charity was doing to help others in the community. "She said she was passionate about support for single mothers through peer support," says Irma.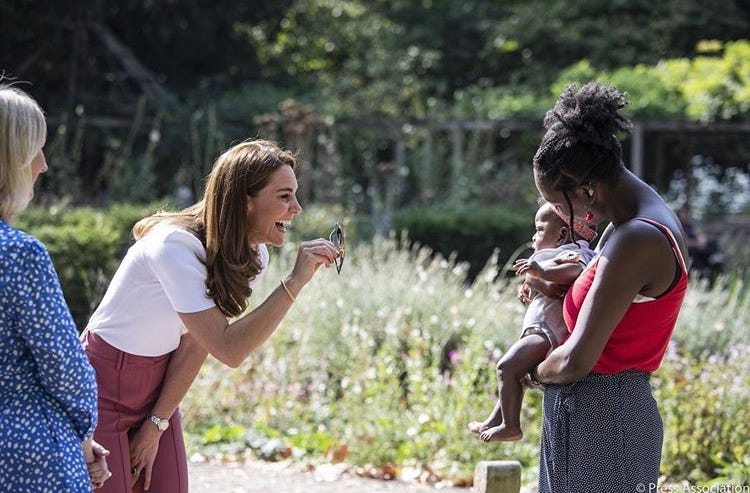 Meanwhile, over in Portsmouth the Countess of Wessex was at another public event, one of several she has attended recently.
Sophie joined her husband Prince Edward, and their two children Lady Louise Windsor (16) and James Viscount Severn (12), to collect rubbish in a bid to highlight the rise in single-use pollution over the past few months. Sophie related this rise in rubbish to a lack of information as to how to safely dispose of necessary face masks and PPE during the pandemic.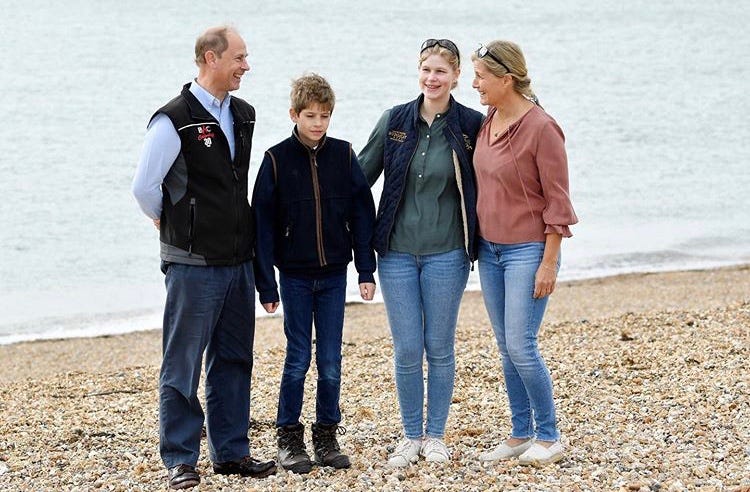 "There is no information about how people should dispose of them," she explained. "We aren't being told what to do with them. Obviously we would want to encourage people to use these lovely reusable masks, but sometimes you can't. It's so difficult because councils are stretched at the moment."
Edward and Sophie decided to get out with the children and do something about it. And it's likely we'll be seeing more of young Louise volunteering in coming months as she is about to start her Duke of Edinburgh's Gold Award, which includes an aspect of volunteer work.
She and her – slightly mischievous brother – looked to be having some fun while picking up rubbish, also stumbling upon an octopus. James picked up the octopus on the end of the stick, playfully waving it in front of his none too impressed squirming older sister.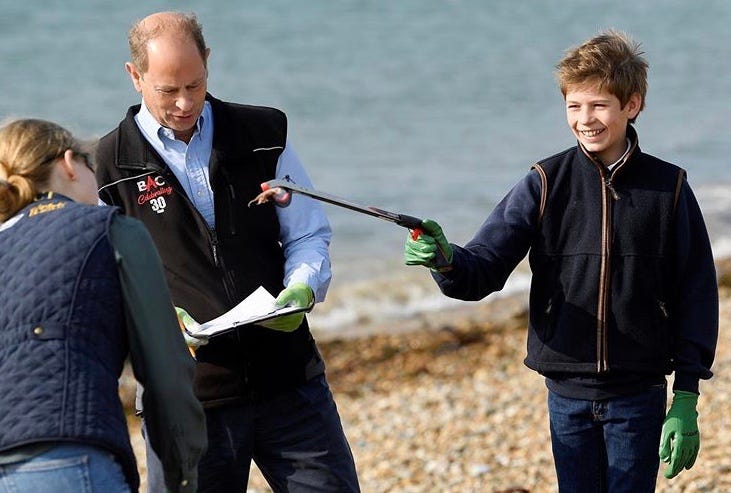 A few days earlier Sophie was out in public, for a much less physically taxing task – she simply had to sit still, while a sculptor created a bust of the Countess, all documented on a live stream over the internet!
Sophie sat for the sculptor as the entire process was filmed – all to raise awareness for the blind and partially sighted. Sophie is patron of charity Vision Foundation and spoke of the challenges faced during the pandemic by those have issues with their vision.
"For the blind and partially sighted amongst us, these past months have been especially challenging," said Sophie. "However, through the care that the Vision Foundation has extended to those in difficulty, I am hopeful that the people we care for will feel empowered within their communities. This sculpture, and the faces of many others, will allow the blind and partially sighted to see through touch and so to more vividly imagine their world."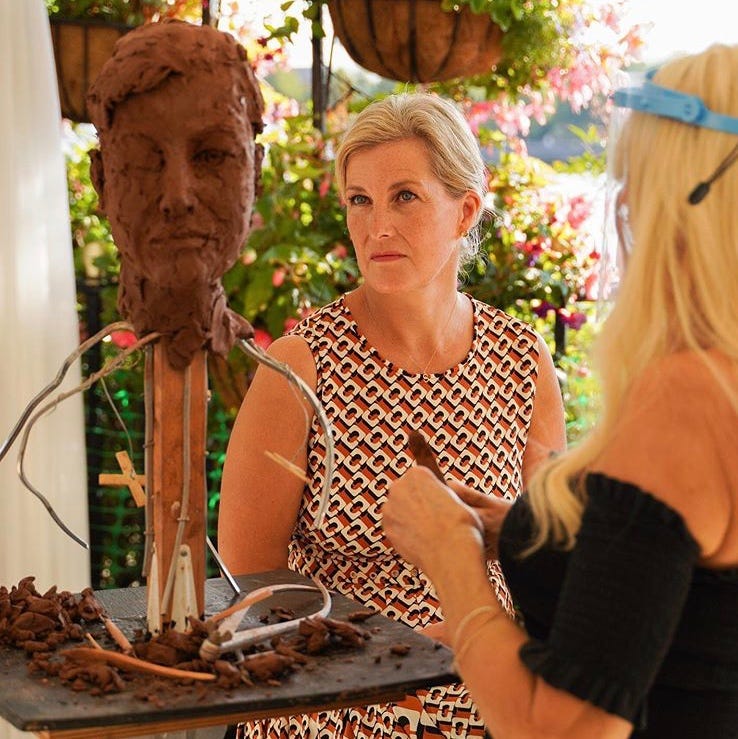 Despite the restrictions of the pandemic, Sophie has continued to carry out events and appearances where possible and it's believed we'll be seeing more of Sophie in the months to come as she shoulders more work, to fill the hole left in the royal family by Prince Harry and Meghan Markle.
Sophie has always had a very close relationship with the Queen, and particularly now that her children are that much older, it is expected she will increase her workload. It'll no doubt come as a relief to Prince William and Kate, who currently are being looked to to shoulder more events - particularly overseas trips (when they become possible again!), with the Queen no longer embarking on them at 94, and Prince Charles expected to do fewer as he himself is now in his 70s. Watch this space!
---
Brain Test! Solve this tricky Gogen by Andrew Reid!
Add the 25 letters between A and Y in the alphabet to the grid below. Each one should appear exactly once - I've helped you out and placed a few in the grid to start. When you have finished, you must be able to spell the following words moving horizontally, vertically or diagonally around the grid:

AXE, BRICK, CROWD, FIGHT, GAS, JAM, NOD, PLUG, QUICKLY, SAVED, SMUGLY.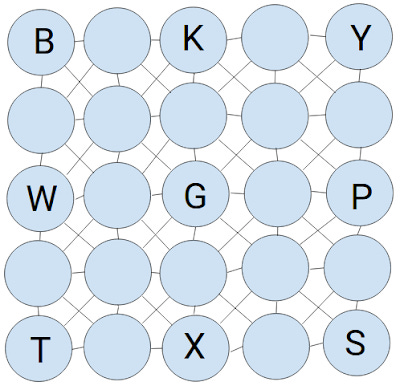 Keep an eye out in the next newsletter for the solution!
---
Quiz: This Week In History…
Which Kiwi released their first studio album on September 27 2013, which would become one of the world's best-selling albums of 2014?

On September 21, Groundhog Day actor Bill Murray celebrated which milestone birthday: 60, 70 or 80?

Pope Urban VII died on September 27 1590, this reign the shortest papacy in history. How long was he the Pope for: 13 hours, 13 days, 13 weeks or 13 months?

On September 21 a famous author turned 73. The American writer has penned numerous bestselling books, including Carrie and has had dozens of those stories made into films – such as Stand By Me. Who is he?

On September 25 one of the first public health announcements on the dangers of smoking was published when a British Physician warned against the use of tobacco in a letter to The Times newspaper. What was the year: 1878, 1904, 1921 or 1941?

Supermodel Christie Brinkley walked down the aisle on September 21 1996 to marry Peter Cook. How many times has she been married? (Bonus points if you can remember who to!)

Who am I? I was born on September 26 1948 in Cambridge, England, but have spent most of my life in Australia. I've had a long and successful music career, including five number one hits in the US, and four Grammys – including one for I Honestly Love You in 1974. I've also worked as an actress – my most famous role was opposite John Travolta.

For the very first time, on September 26 1983, a non-US challenger won the America's Cup. Who won?

Actress Gwyneth Paltrow turns 48 on September 27 – who is she currently married to?

On September 23 1957 That'll Be the Day went to number one. Who was the song by?

Keep an eye on the next newsletter for the answers!

---

Coming to your inbox this week: 'Nici's Easy Homemade Teriyaki Beef!'

Don't miss the next newsletter, where Nici shows us how to make one of her favourites - it's amazing, and quite a lovely light meal!
Until then, enjoy your week!

Talk soon,
Alice, Kelly & Nici x